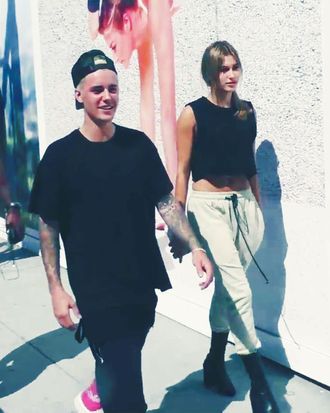 Justin Bieber and Hailey Baldwin.
Photo: JMA/Star Max/GC Images
Justin Bieber and Hailey Baldwin know that couples who pray together stay together, which is why they simply can't stop attending church services together. Last weekend, the Instagram-official lovebirds hit up one of Biebs's favorite megachurches, where they engaged in their holy shared interest.
According to People, Bieber took Baldwin to the Sunday service at Churchome Church in Kirkland, Washington — one of Bieber's preferred places to drop by in his beloved white Thrasher hoodie in order to praise Jesus. Afterward, the couple was spotted taking a quick dip in their hotel hot tub — appropriately baptismal.
This weekend trip marks the second time Bieber and Baldwin have hit up a church service in the past month. Right around the time that rumors started to swirl that they were back together, the pair attended a church conference in Miami, after which a source revealed to E! News that their love for "their church organization" is one of their two shared interests. (The other is partying — work hard, pray hard)!
Now it's Baldwin's turn to take Bieber to one of her favorite spots in the Hollywood church scene.