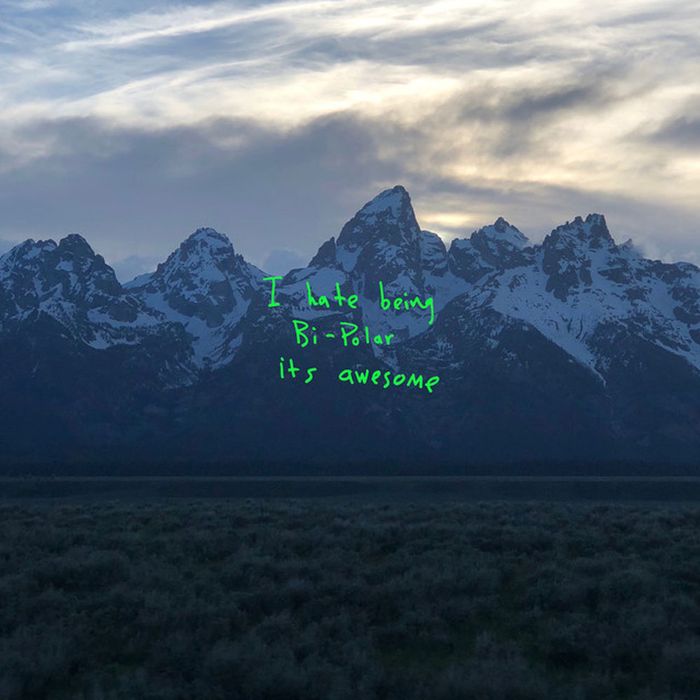 The album art for
YE
.
Photo: GOOD/Def Jam
As promised, Kanye West released an album last night, YE, a collection of seven songs in which he name checks Stormy Daniels, says some dumb shit about slavery, and raps about Tristian Thompson. There is not a lot of good to come out of this situation, given how much Kanye's been trying us for the past month: the music is mediocre. It's neither a train wreck nor a triumph, so the discussions it inspires will probably be just as meh a the album itself. Apparently the only good thing to come out of YE drop day is … Wyoming? Congratulations, Wyoming.
In advance of the album drop, West flew a number of journalists, music industry people, and celebrities out to Jackson Hole, Wyoming, to listen to the album in the state where it was recorded. At some point yesterday, a few Wyoming-related tweets started cropping up — mysterious for all of those who hadn't been invited — but by late afternoon, as people boarded private planes and prepared to spend the evening at the Yeezy retreat located at a beautiful, enormous (thanks, Instagram) ranch called Diamond Cross, Wyoming achieved Twitter moments status. Wyoming fascination was peaking. Wyoming was all anyone could talk about! People were treating Wyoming like a Supreme drop! Wyoming! Now a synonym for "exhausting." Wyoming! A synonym for spectacle. Who doesn't love a ridiculous, exhausting spectacle?
Remember when Twilight came out in 2008, and all of a sudden people were so into Forks, Washington — the small, foggy town where the movie was set? There were all these articles about the tourism boom in Forks thanks to Twi-hards who had to go, like, lie in the same field where Edward exposed his glitter chest. Forks was it, y'all. Thanks to Yeezy, Wyoming is having its Forks moment, at least for one news cycle. The official Wyoming twitter account has yet to acknowledge all the attention is getting right now. Wyoming's social-media editor must be overwhelmed.
Wyoming, once known as the Equality State, is now where Chris Rock introduced Kanye West's new album. It's where Teyana Taylor, Lil Yachty, Kim Kardashian West, and Jonah Hill all hang out together. It's where Hypebeasts went to take part in one of the most random, gassed-up cultural events of the summer (Sigh.) Does Wyoming know what Off-White is? Because Off-White could swiftly become the new official State Motto: "Wyoming, the Off-White State." The mountain landscape is now immortalized on the album cover — a picture Kanye snapped on his iPhone on the way to the listening. And, thanks to Kanye, Wyoming now has got its own Wes Lang–designed merch: '90s inspired T-shirts and sweatshirts, with a picture of the state's beautiful snowy landscape and WYOMING in neon green writing.
I do wonder: Why Wyoming, Kanye? Sure, Bon Iver went to Wisconsin pour his heartache into For, Emma; Justin Timberlake went to Montana to turn into a corny dad. Is the West still the fabled land where men go to pursue manliness? Did Ye just need to find himself in a red state — and in doing so, unintentionally turn it into a hypebeast tourist destination? Maybe he just likes horses.
Either way, Jackson Hole, Wyoming, now joins the list of historical sites of infamous pop-culture moments, alongside Rihanna plane and Fyre Festival. Should we go? Plan a trip? I hear people enjoy the verdant rolling hills. I hear it's nice every other time of year besides these past 24 hours.