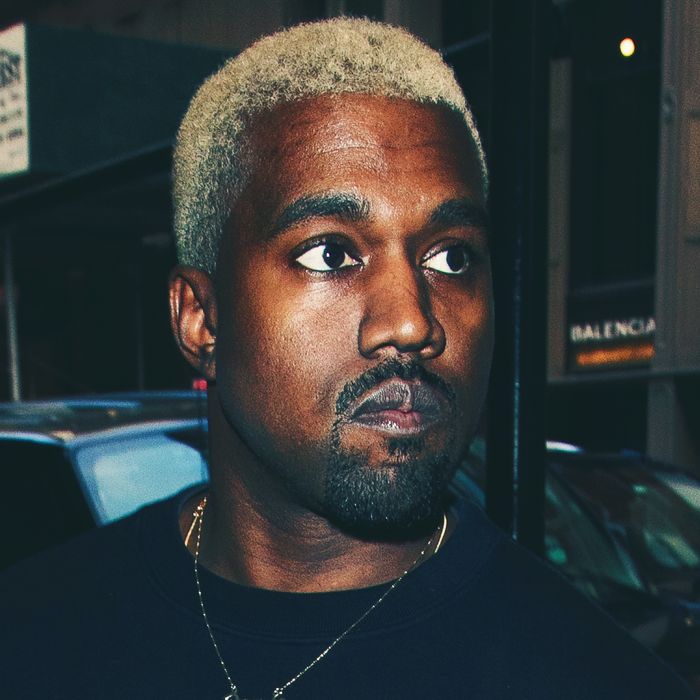 Kanye West.
Photo: Marc Piasecki/GC Images
At a listening party in Jackson Hole, Wyoming, on Thursday night, Kanye West debuted his new album YE, his first since Life of Pablo in 2016.
West's wife Kim Kardashian West was in attendance (wearing West's new Wyoming-themed merch) as well as rappers 2 Chainz and Pusha-T, actor Jonah Hill, and comedian Chris Rock. According to People, Rock introduced West, telling the crowd, "Remember this rap music, hip-hop music, is the first art form created by free black men. And no black man has taken more advantage of his freedom than Kanye West. Listen without prejudice."
YE's release comes weeks after West went on a series of Twitter rants in which he praised Donald Trump, and name-dropped everyone from Peter Thiel to Bart Simpson to Haruki Murakami. The album touches on events related to him and his family in recent months, as well as his own mental health. (The album cover is a picture of the Grand Tetons, which Kim Kardashian West says he took on the way to the listening party, with the words "I hate being bipolar, it's awesome.")
Here are some of his most notable lines.
On his mental health
On his first track, "I Thought About Killing You," West raps about considering suicide:
I contemplated premeditated murder / And I think about killing myself
And he concludes his second track, "Yikes," with the line:
That's my bipolar shit what / that's not a disability that's my superpower / I'm a superhero.
On the sexual-assault allegations against Russell Simmons
"Yikes" also references the multiple allegations of rape and sexual assault against music producer Russell Simmons.
Russell Simmons want to pray for me too / I pray for him because he got #MeToo'd
On the Khloé Kardashian/Tristan Thompson cheating scandal
On "All Mine," the album's third track, which features Ty Dolla $ign, West makes reference to the fact that NBA player Tristan Thompson, Khloé Kardashian's boyfriend and the father of her daughter True, cheated on Kardashian throughout her pregnancy. (The infidelity was reportedly "exhausting" for Thompson.)
All these THOTs on Christian Mingle / That's what almost got Tristan single.
On Kim's reaction to his slavery comments
In May, Kanye made an appearance on TMZ during which he said slavery was a choice. His comments understandably upset a lot of people, including, apparently, his wife. On his fourth track, "Wouldn't Leave," he says:
"I said, 'Slavery a choice' / They said, 'How, 'Ye?' / Just imagine if they caught me on a wild day," he raps. "Now I'm on 50 blogs, gettin' 50 calls / My wife calling, screaming, saying, 'We 'bout to lose it all!' / Had to calm her down 'cause she wouldn't breathe / Told her she could leave me now / But she wouldn't leave."
On his daughters and seeing women as … humans?
On "Violent Crimes," his last track, West suggests that being a father of daughters (North, 4, and Chicago, 4 months) has changed the way he thinks of women. Better late than never, I guess?
Father, forgive me, I'm scared of the karma / Cause now I see women as somethin' to nurture / Not somethin' to conquer / I hope she like Nicki [Minaj] / I'll make her a monster.