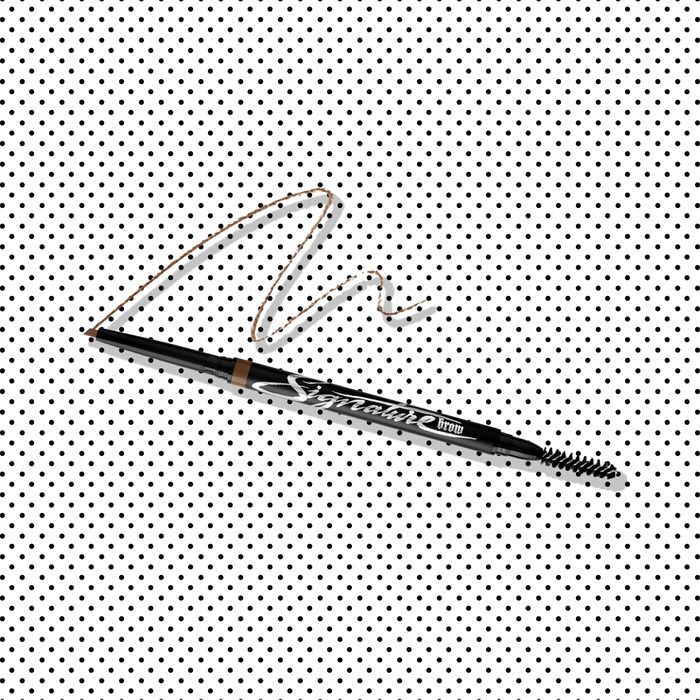 The annoying thing about beauty products is that every time you think you've found the best version of something, a newer, better one comes out. For months, I've been using the much-loved brow pencil from Anastasia Beverly Hills. People love it so much that 12,000 of them have taken the time to review it on Sephora, resulting in a 4.5 star rating. I thought the pencil and I were in a committed relationship, but then I came across Kat Von D's new Signature Brow Precision Pencil, and my eye wandered.
There are a few things about Kat Von D's pencil that make it so good. First, the elliptical shape somehow ergonomically ensures that you draw rounder, more realistic-looking brow strokes. You can also use it two ways — outline your brow shape with the long "edge" (useful if you have large sparse areas), and then flick the shorter tip to create individual hairs that almost look microbladed.
A lot of brow pencils snap when you press too hard, cutting their life expectancy sadly short, but this one seems unsnappable, as well as waterproof and longwear. Try as I might to break this pencil, it won't budge. I'm also a fan of the texture: soft but not chalky or too hard. It has the right balance of oils to be a bit pliable, making it easy to maneuver yet sturdy to give you confidence in your strokes. It comes in seven shades for now.
All the tiny things that make the pencil slightly better than another may be negligible to you, sort of like the iPhone 8 versus the 8 Plus. If you like your brow pencil already, maybe you're good. But if you want something a little better, it might be what you need.
If you buy something through our links, New York may earn an affiliate commission.