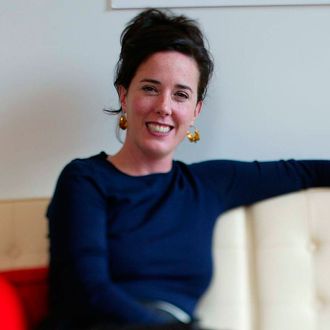 Photo: David Howells/Corbis via Getty Images
In honor of fashion designer Kate Spade, the company she founded has pledged to donate $1 million to suicide prevention and mental-health-awareness causes. Spade, who died in her apartment of suicide on June 5 at the age of 55, launched the brand that shared her name in 1993 but departed in 2006.
Kate Spade New York will donate $250,000 to the Crisis Text Line. The company will also match public donations made to the organization from June 20 through June 29, up to $100,000. To donate now, you can click here.
Additionally, it will host a Global Mental Health Awareness Day for employees in corporate and regional offices. This comes as part of a larger wellness program that Kate Spade New York plans to introduce in the future. A representative for the company told Racked that the program will inform employees about "common risks and warning signs" related to mental health; it will also "communicate ways to effectively intervene when necessary."
"Mental health does not discriminate; it is complicated and difficult to diagnose and can often be life-threatening," Anna Bakst, brand president and chief executive officer of Kate Spade New York, said in a statement. "We hope that our support will shed even more light on the disease and encourage those who suffer from mental health issues to seek help. Collectively, we must all do more."
In the U.S., the National Suicide Prevention Lifeline is 1-800-273-8255.