Following the sudden and tragic news of Kate Spade's death on Tuesday, friends, customers, and longtime admirers of the designer shared their memories of her on social media. Spade was much beloved for her kindness and her joyful vision of the world. Her uniquely American worldview left a legacy that will be fondly remembered by loved ones and strangers alike. The Cut asked members of the fashion community to share what Kate Spade meant to them. Read on to hear their stories.
Aya Kanai

Chief Fashion Director, Hearst Women's Fashion Group
Kate Spade was a New York icon and represented the best of American entrepreneurship. She had a great idea, brought it to life, and built a hugely successful business. In Japan, some designers become celebrities themselves, and Kate was certainly one of these people. She would be mobbed in the street like the second coming of the Beatles when she visited Tokyo. When I was growing up in the '90s, there was nothing more coveted than her bags. Before there was such a thing as an "It" bag, Kate made them. She cleverly put the tag on the outside, rendering it an instantly recognizable status symbol. As teenagers, we might have not known or cared about most fashion designers, but everyone knew what a Kate Spade bag was.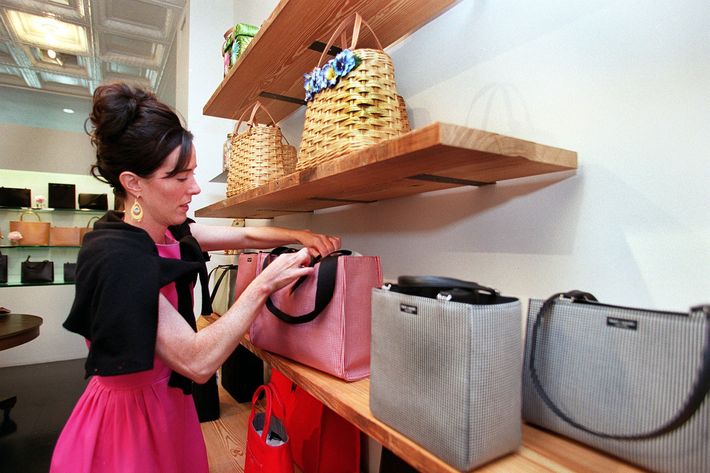 Wendy Goodman

Editor, Design Hunting
I remember visiting Kate and Andy Spade when they had just opened the showroom. They seemed to have such a feeling of pure joy and excitement about doing something that they loved. The handbags were all beautiful indeed, but the way they created the environments in the showroom used to make my heart leap. Seeing them, I always thought, This is the way I would like my house to be: full of fresh flowers, books, and happiness. I went back to see Kate and Andy more than I needed just to bask in the atmosphere of beauty and life they created.
Jill Kargman

Author
Katy was my very first boss when I was a summer intern at Mademoiselle. I idolized her. She was so stylish, eclectic, and nice — which in fashion then meant she was a unicorn. She informed my sense of style forever with a love of graphics and piping. I remember telling her two decades later how I still love bows and got one tattooed on my wrist. I went with her to the old Barney's downtown (before it closed and reopened) to "visit" her very first collection of bags there. And I would go to her place on Warren Street where I'd pick out canvas bags and gush about all the grosgrain bows and handles. I told her I knew her company would be huge, though I had no clue how major it would be. I saw her two weeks ago and she was her usual smiley self — so supportive, wearing one of her classic, effortlessly chic ensembles. That is how I will remember her.
Roopal Patel

Senior Vice President, Fashion Director, Saks Fifth Avenue
When I first started my career, I remember seeing Kate Spade bags on almost every woman in the city. Kate transformed the accessory world, essentially creating the "It" bag phenomena. Her creativity, talent, and wonderful spirit will be dearly missed. My thoughts and prayers are with her family.
Julia McCrank

Founder of Kate Spade Girl Blog
I fell in love with Kate Spade handbags in the late '90s. They were simple, yet affordable and stylish. My daughter still has the nylon Claire handbag I purchased. My blog is devoted to the idea of a Kate Spade "girl." She has extra outfits in her car for an emergency party, she's overdressed, she finds joy in beautiful things, and doesn't mind standing out in a crowd or dancing in the rain. That's why I blog about Kate Spade — it's a beautiful world filled with pretty dresses you can twirl in and sparkly party shoes.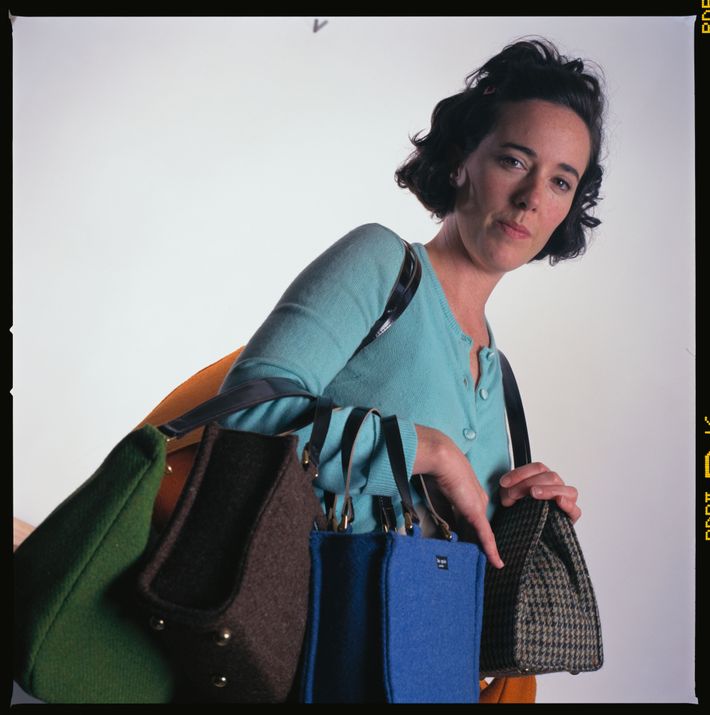 Fern Mallis

President, Fern Mallis LLC
Kate Spade was special. She was original and quirky, and created products that were as colorful, playful, and happy as she was. Her collections were contagious — you saw a bag and had to have it. And even when everyone you knew was wearing or carrying Kate Spade, it never looked the same. One holiday season, Kate gifted me a rather large brown canvas tote bag. My name was embroidered on one side and her label was on the other. I loved it. She was at the peak of her success during my tenure at CFDA, winning several awards. Kate was unique, and it's sad to think about how creative, talented people in our industry sometimes become a brand and stop being a person.
Cynthia Rowley

Designer
We shared a love of art, fashion, family, and our Midwest roots. No one had style like Kate. She lit up the room the minute she walked in and shook up the industry with her box bag and colorful life. I will always remember her vintage bangles clanking on her wrist, her cheery red lipstick, and her perfectly cropped trousers. This photo is from when I was pregnant with Gigi, and Kate happened to be pregnant as well, with Frances.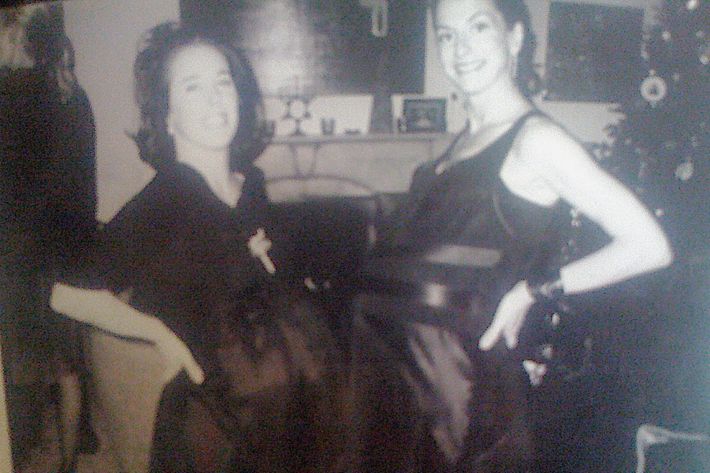 Tierney Gearnon

Photographer
I shot their campaign at the Kennedy house, and it won a lot of awards. Their later campaigns became more quirky, but mine was closest to what Andy and Kate were like. I channeled their way of thinking and being and what they represented through my images. There's a picture of a little boy reading a book in the bathroom where his mom is getting ready. Another was of a little boy in his Halloween costume, with his mom kneeling down. That could have been Kate in that picture. If you glanced at it, you would ask, "Oh, is that Kate?" It's not; it's actually someone else.
Kate was a burst of sunshine, a bouquet of flowers — she was always so happy, friendly, and very gentle and open. She was the face of the brand. It was a lot of responsibility, but yet she maintained a delicate elegance.