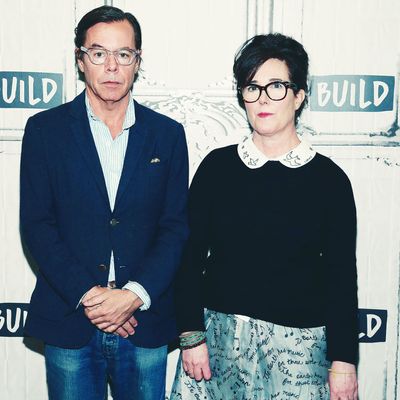 Andy and Kate Spade.
Photo: Monica Schipper/WireImage
A day after Kate Spade was found dead in an apparent suicide in her Park Avenue apartment, her husband has broken his silence on the tragic incident. In an interview with the New York Times, Andy Spade described his wife's death as a "complete shock," and said there was "no indication and no warning" beforehand.
Andy and Kate, who married 24 years ago, launched the brands Kate Spade and Frances Valentine in 1993 and 2016, respectively. To the Times, Andy revealed that Kate had suffered from bouts of anxiety throughout their relationship, but it was only six years ago that she started to seriously struggle with depression. Just under a year ago, Andy said the couple unofficially separated.
However, Andy said that "there was no indication and no warning that she would do this." The night before Kate's death, Andy had been in touch with her because their daughter, Frances Beatrix, was staying with him. That evening he thought Kate "sounded happy," he told the Times.
"It was a complete shock," he continued. "And it clearly wasn't her. There were personal demons she was battling."
Andy also brought up the media's coverage of the note that Kate left her daughter, saying that he was "appalled that a private message to my daughter has been so heartlessly shared with the media."
Aside from Andy, there were only a few of Kate's closest friends and family members who were aware of the designer's mental health struggles and marital problems. One such person was Elyce Arons, who was Kate's friend and business partner in both Kate Spade and Frances Valentine.
"Katy was very happy most of the time, the funniest person in the world, and sometimes she would get really sad," Arons told the Times, adding that she watched Kate's condition develop over time. "She really felt she could power through it on her own."
In the U.S., the National Suicide Prevention Lifeline is 1-800-273-8255.