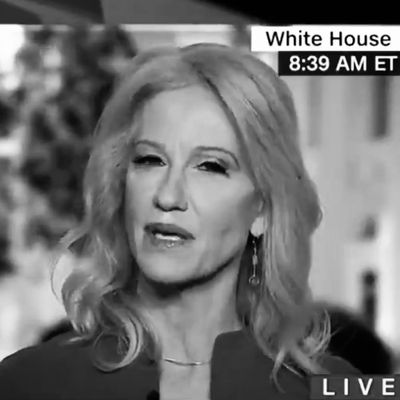 Kellyanne Conway on CNN's New Day.
President Donald Trump disinvited the Philadelphia Eagles football team to a Tuesday event at the White House honoring … well, uh … the Super Bowl win of the Philadelphia Eagles. But the celebration still went on as scheduled, with the president even bopping along to "God Bless America" during the event. On Wednesday morning, Kellyanne Conway appeared on CNN's New Day to talk about the event, the Eagles, and the NFL national anthem protests — and something truly miraculous occurred: She accidentally referred to Trump as the "commander of cheese."
When asked about Trump's previous comments that NFL players should stand during the national anthem (and that the league should get those "sons of bitches" off the field), Conway replied with a statement that will ring in my heart forever.
"And the problem with that is what? Just so we're clear: And the problem with the president of the United States and the commander of cheese — chief — expressing that opinion, is exactly what?," Conway asked.
The cheese moment was so short, so small, so otherwise insignificant, but also so large and so important, and I can't stop watching it or wondering what it means. Was Conway simply hungry and mentioned cheese because she wanted some? Had she eaten some cheese for breakfast and still had the taste of it in her mouth? Was it merely a momentary flub that means absolutely nothing at all? Or was it a Freudian slip, given Trump's orange-ness?
Oh well, I guess I'll have to watch this clip a few hundred more times to find out.