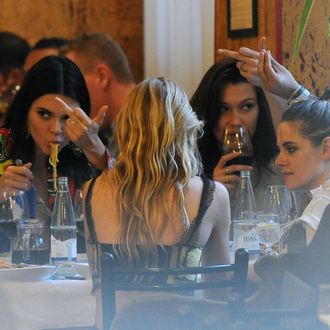 Kendall Jenner, Bella Hadid, Stella Maxwell, and Kristen Stewart.
Photo: SplashNews.com
If it wasn't abundantly clear already, supermodels love spaghetti. They eat it while naked; they slather it all over their bodies; they roll around in it. Sophia Loren even once said: "Everything you see I owe to spaghetti."
But no one loves Italian carbohydrates more than Kendall Jenner and Bella Hadid, who defended their titles on Saturday night at a restaurant in Milan where they wined and dined with fellow-supermodel Stella Maxwell and her reported girlfriend, Kristen Stewart. When the paparazzi tried to catch them mid-bite, they each flipped the bird with one hand and continued eating with the other. Only skilled spaghetti eaters could pull off such effortless multitasking.
Still, the paps prevailed, and a blessed image was produced. In the foreground, we have K. Stew — whose hair is pulled up in top bun and a low bun — feasting her eyes on her stunning dinner date. Then, in the middle-ground, you will notice on the right-hand side of the frame a floating hand passionately expressing something in Italian sign language. And of course, in the background, Kendall and Bella just trying to live.