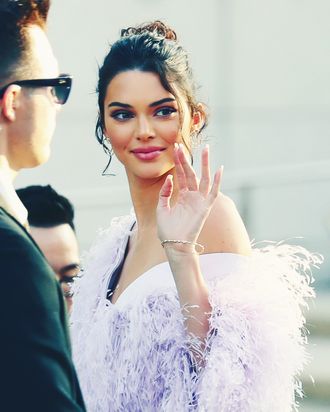 Kendall Jenner.
Photo: Rob Kim/GC Images
Early Tuesday morning, TMZ captured representatives from two hot, powerful families bravely locking lips at a CFDA Fashion Awards after-party: Kendall Jenner and the younger brother of Gigi and Bella Hadid, Anwar.
The two apparently started cuddling and making out around 2 a.m. at Socialista New York, where Hadid probably should not have been, as he is 18 years old. However, the couple clearly showed restraint, as Jenner was photographed entering her hotel alone at the painfully early hour of 4 a.m.
So does this mean Jenner isn't dating NBA star Ben Simmons, with whom she was spotted just last week? Or, perhaps more interestingly, has she always had a thing for the little Hadid? Way back in October 2016, Jenner instagrammed a photo with 17-year-old Hadid with the caption, "dibs?," which sounds sexy.
Whatever's going on with these young celebs, we're keeping their immune systems and sleep schedules in our thoughts.