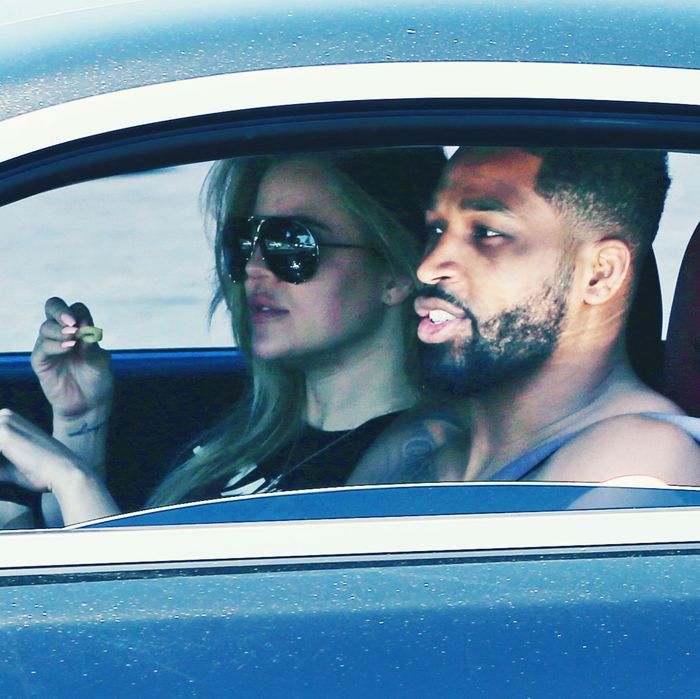 McDonald's fries, Khloé Kardashian, and Tristan Thompson.
Photo: Clint Brewer / SplashNews.com
Tristan Thompson doesn't have the greatest public record when it comes to respecting Khloé Kardashian, but yesterday the couple got some alone time in Los Angeles. Paparazzi photos surfaced of the NBA star driving Kardashian to McDonald's in his Rolls-Royce for some romantic alone time.
Kardashian ate fries in the front seat while Thompson (also known as TTD) paid for his sins by chauffeuring her around. A source told People that the two are in the "best place they've been since the scandal." To refresh, Thompson cheated on Kardashian while she was pregnant with their daughter, True. Since then, their relationship has been up and down, with reports that she was "living in hell." Now it seems to have settled down a bit. They've attended parties and reportedly spent Father's Day together back in Calabasas.
"Khloé's super family-focused and wants to keep her family together. The focus is on their newborn daughter," the source told People. "Tristan's been supportive and helping out when he can. No one was anticipating he was going to come out with her and that they would be so public last night."
The family has reportedly not cozied back up to Thompson so quickly. Kim said on Ellen that the situation is "just so fucked up." Another report said that the family "expected" trouble from Thompson. Thompson, for the record, is "exhausted" by the scandal.