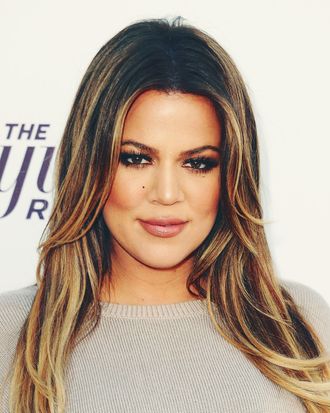 Khloé Kardashian.
Photo: Jason LaVeris/FilmMagic
Ever since reports surfaced that Tristan Thompson had cheated on Khloé Kardashian repeatedly throughout her pregnancy, the latter has understandably stayed relatively mum on the subject. But Monday afternoon, she couldn't help but fire back at a Twitter user who attacked her handling of the scandal.
In the past two-plus months since the cheating reports emerged (and Khloé birthed their baby girl), the earlier rumors about Khloé's well-being were contradictory, but more recent reports suggest that the couple is happy — or at least working on it. Today, when one of Khloé's alleged fans criticized her, the Kardashian's response confirmed that she feels good about her current situation with Tristan.
"I love, adore & root for @khloekardashian but I'm so disappointed she stayed with that wasteman Tristan," wrote Twitter user Queen Persia. "She preaches about women knowing their self worth and when to walk away but when it's time to walk the walk, she's a hypocrite."
Khloé, tired of keeping quiet, informed Queen Persia that she's "proud" of her strength, and politely — but firmly — asked her to mind her own business.
"I appreciate your opinion and I hope you hold that same opinion to everyone else who has stayed in situations," Khloé wrote.
Once more, for the people in the back: Khloé would really love for everyone to leave her the hell alone.