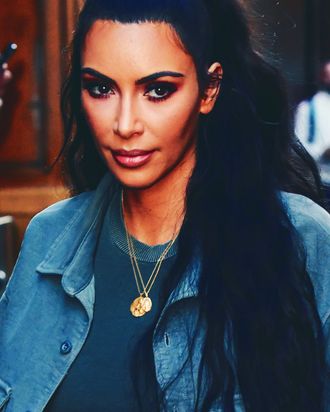 Kim Kardashian.
Photo: James Devaney/GC Images
Now don't go off saying, She's running, but Kim Kardashian West is open to the idea of running for political office. In an interview on CNN's The Van Jones Show, Kardashian West told the host that she wasn't actively thinking about running, but you know, "never say never."
Kardashian West appeared on the show to discuss Alice Marie Johnson, a formerly incarcerated woman who was serving a life sentence without parole for a first-time drug offense, and for whom Kardashian West advocated. On May 30, Kardashian West went to the White House and asked Donald Trump to pardon Johnson — a request that he surprisingly granted on June 6.
Speaking to Jones about Johnson, Kardashian West said, "I honestly saw that if I could use my platform just to do something for one person, that it opens the conversation for so much more and for other people to want to do the same thing."
She then talked about the need to put aside "personal feelings" to debate "really important issues," which prompted Jones to ask that age-old question: Would you ever run for office?
"I guess never say never," Kardashian West responded. "But that's not going to be like, Kim's running. That's not where I am." In political office or not, Kardashian West said she doesn't want to follow a specific party line, but that she hopes to continue helping other incarcerated women.
I wonder what Kanye, aspiring president, thinks of this.