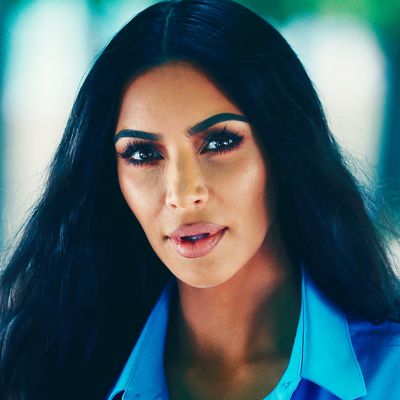 While some brands simply put out rectangular perfume bottles, Kim Kardashian West thinks beyond the lines. The woman who gave us perfume in a vessel shaped like her naked body has created a new line of emoji-inspired scents, one of which comes in a highly suggestive peach-shaped bottle.
Kardashian West just opened a new KKW Beauty pop-up shop in Los Angeles where she announced the new fragrances. They're vaguely NSFW if you really use your imagination — though, as like watching the Emoji movie, that's something you do at your own peril. As W Magazine reports, one bottle looks like a peach emoji and has cream dripping on it, another is a cream-covered cherry, and the third just says "Vibes." If you really want a full Kimoji collection, you can buy peaches and cream earrings, tech decals, USBs, and chokers right now.
There's no word yet on what the three scents will actually smell like, but when it comes to Kimoji perfumes, that's a bit secondary anyway. The new fragrances drop on July 14 in her L.A. pop-up shop and online.