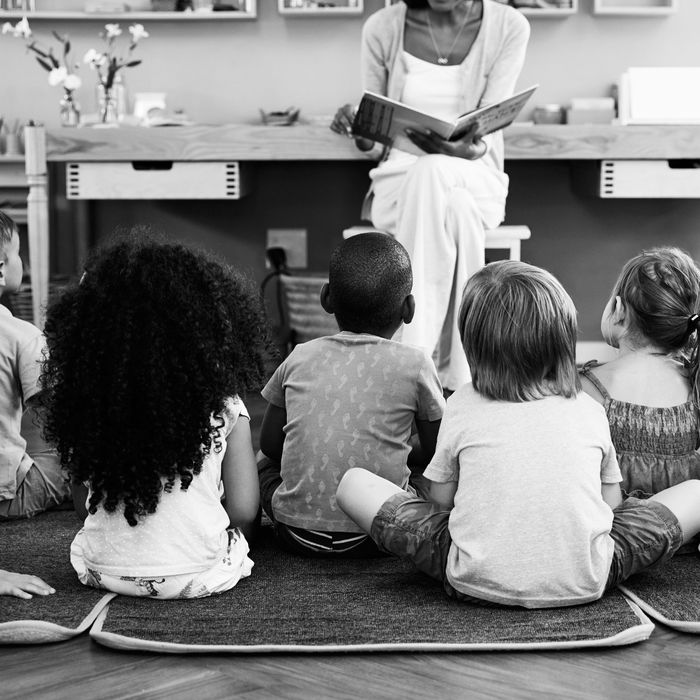 Photo: monkeybusinessimages/Getty Images/iStockphoto
This week, a woman named Georgy Cohen learned that shopping for a kindergarten can now mean more than considering a school's nut allergies policy. While checking out a classroom for her 5-year-old daughter in Somerville, Massachusetts, Cohen was alarmed by a chilling nursery rhyme she encountered on the wall, which was meant to prepare children for a lockdown.
In a photo Cohen shared on Twitter, which has since gone viral, the lyrics are colorfully drawn on a poster plastered right next to the alphabet. It goes to the tune of "Twinkle, Twinkle, Little Star," and includes lyrics like, "Lock down, lock down, say no more. Shut the lights off, close the door."
In an interview with the Boston Globe, Cohen declined to name the school where she took the photo, but she did mention it was part of a district-wide school tour. Somerville Public School officials have yet to comment on their safety-instruction policy.
The tweet sparked conversations about protecting students following the Parkland school shooting. Cohen urged others to call their congressional representatives to advocate for gun reform and to support organizations like Everytown for Gun Safety and Sandyhook Promise.
The shocked mother told the Globe she isn't angry about the poster but is worried it normalizes shootings and noted, "When I was in kindergarten, we had fire drills. It was different — we didn't have these same types of threats."