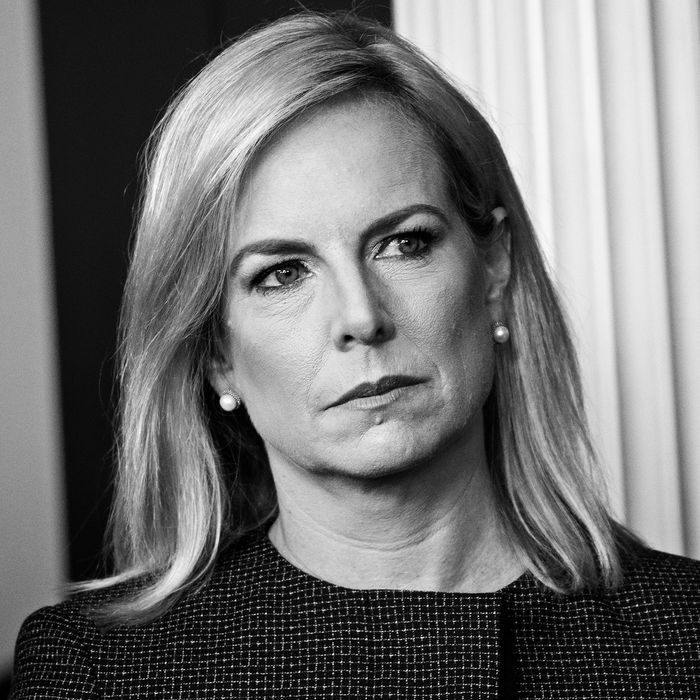 Kirstjen Nielsen.
Photo: Andrew Harrer/Bloomberg via Getty Images
Days after a group of protesters successfully heckled Secretary Kirstjen Nielsen out of a Mexican restaurant (over her support of President Donald Trump's brutal family-separation policy), the Department of Homeland Security head was greeted on Thursday by protesters at a different, more familiar location: her home.
As HuffPost reports, a group of protesters holding signs gathered around the Alexandria, Virginia, residence of Nielsen. Standing on her street, they played audio recording of detained immigrant children crying out for their parents at a U.S. Customs and Border Protection Facility. The recording was first published earlier this week by ProPublica, who received the audio from a whistleblower.
HuffPost's Philip Lewis posted a video of the protest on Twitter, writing, "Protestors are outside of DHS Secretary Kirstjen Nielsen's Alexandria townhouse, playing audio of the detained children. She appears to be still be home." The crowd was also reportedly chanting 'No justice, no sleep!" and "Free the kids!," while holding signs that called Nielsen a "child snatcher"
The protest was organized by CREDO Action, a progressive group, and took place on Thursday at 7:30 a.m. in pouring rain. One of the people who spoke at the protest, 23-year-old DACA recipient Claudia Quinonez, told HuffPost, "Families are migrating to the U.S. to flee poverty, to flee gang violence and to seek a better life. When you're deporting them, you are hindering their ability to achieve their hopes and aspirations."
Meanwhile, Nielsen ended up having to walk past the protesters as they shouted "Shame!" and "History will remember you! History will judge you! You belong in the Hague!" as she left her home that morning. The moment was caught in video shared on Facebook: