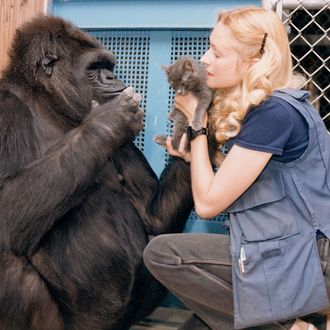 Koko, Dr. Francine Patterson, and a kitten.
Photo: Courtesy of The Gorilla Foundation/Koko.org
Koko, the gorilla who achieved worldwide fame and adoration after mastering sign language, died in her sleep on Tuesday. She was 46.
A western lowland gorilla, Koko was born at the San Francisco Zoo in 1971. In 1974, animal psychologist Dr. Francine Patterson began to teach her sign language for a Stanford University project. Over time, she learned to sign over 1,000 words and is believed to have understood over 2,000 spoken English words.
Along with her impressive communication skills, she learned how to play the recorder and had a particular affinity for kittens. Here, she's seen selecting two new pets for her birthday in 2015:
"Koko touched the lives of millions as an ambassador for all gorillas and an icon for interspecies communication and empathy," The Gorilla Foundation, where she resided until her death, said. "She was beloved and will be deeply missed."