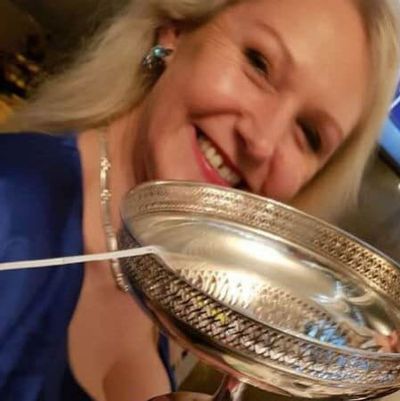 Larissa Watson.
Photo: Facebook
Late May and early June of 2018 will go down in history for their trove of amazing grifter stories, from the epic tale of fake German heiress Anna Delvey to the former Vogue staffer arrested for stealing from Grace Coddington. And thankfully, it seems we will continue to be blessed with more and more scammers to obsess over; my newest favorite is a British woman who was recently been dubbed the "Pirate of Portofino."
As the Telegraph reports, British designer and painter Larissa Watson, 50, was arrested on Monday in Italy after allegedly trying to steal a yacht from an exclusive Portofino resort on the Italian Riviera. Italian police claim Watson nonchalantly climbed aboard a Sangermani Daycruiser yacht that retails for, oh, just €150,000 (or around $177,000). As fate would have it, the keys of the vessel (which was owned by a local rental company) were onboard, so she merely started up the engine. Per the Telegraph:
The 50-year-old, described by the Italian police as "tall, blonde and refined", was about to head out of the picturesque port, which is lined with pastel-colored houses and popular with tycoons and celebrities, when she was spotted by a harbor worker, who became suspicious.
The worker ran along the dock and somehow jumped aboard the boat in the nick of time, only to grab the keys away from Watson and steer it back to the mooring. Watson was then arrested and charged with theft after the incident on Monday. She is set to appear in Genoa court next month.
But the story doesn't end there! Lest you think luck was simply on Watson's side and that she serendipitously stumbled upon the boat, Italian police now claim that this may have all been part of her plan.
"Nothing like this has happened before in Portofino, it's very unusual," Capt Simone Clemente, of the Carabinieri, told the Telegraph. "By looking through her Facebook and Instagram accounts we found that she had done navigation courses in the past and knew how to handle a boat. She nearly made it out of the harbor."
The police also claim that Watson, who has four kids, had been in Italy since at least February, and that she had allegedly left hotels and restaurants across the country without paying. The Italian newspaper La Riviera, which first christened her "the Portofino pirate," even wrote (per the Telegraph):
"The double life of Larissa Watson seems to have come straight out of a film. In Britain she's an esteemed artist, in Italy a thief who's been under scrutiny by the police for some time."
I can't wait to see what scammer pops up next!