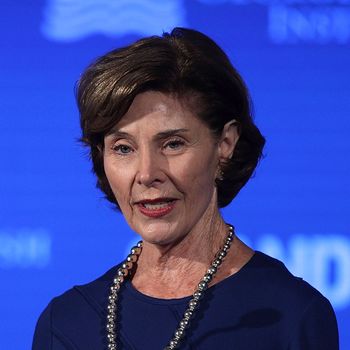 Laura Bush is now even less of a Trump fan.
Photo: Alex Wong/Getty Images
Hours after First Lady Melania Trump issued a statement calling on Congress to come together to stop the separation of parents at the border — which her husband could end anytime he wants — a previous Republican First Lady forcefully condemned the policy.
In a Washington Post op-ed, Laura Bush noted that nearly 2,000 migrant children had been separated from their parents at the border by the end of May, saying this is the result of "a zero-tolerance policy for their parents, who are accused of illegally crossing our borders." (President Trump has blamed a nonexistent Democratic immigration law.)
Bush compared the situation to the internment of Japanese-Americans during World War II, and discussed the long-term health effects on children:
I live in a border state. I appreciate the need to enforce and protect our international boundaries, but this zero-tolerance policy is cruel. It is immoral. And it breaks my heart.




Our government should not be in the business of warehousing children in converted box stores or making plans to place them in tent cities in the desert outside of El Paso. These images are eerily reminiscent of the Japanese American internment camps of World War II, now considered to have been one of the most shameful episodes in U.S. history. We also know that this treatment inflicts trauma; interned Japanese have been two times as likely to suffer cardiovascular disease or die prematurely than those who were not interned.
Citing a report that in at least one Texas facility, shelter workers are barred from physically comforting small, traumatized children, Bush recalled when her late mother-in-law, Barbara Bush, visited a home for children with HIV/AIDS as First Lady, and cuddled a dying baby despite fears surrounding the disease. "She, who after the death of her 3-year-old daughter knew what it was to lose a child, believed that every child is deserving of human kindness, compassion and love," Laura Bush said.
Bush's call for a "kinder, more compassionate and more moral" border policy was a remarkable rebuke of the sitting president, particularly because she is not known for making political statements.
Considering Trump's history with the Bushes, it's unlikely that he or any of his most ardent supporters will be moved by Bush's words. But her op-ed brought more attention to the growing number of bipartisan objections to Trump's family-separation policy.
On Sunday the conservative editorial board of the New York Post, which is owned by Rupert Murdoch, called on Trump to reverse the policy for strategic, as well as moral reasons:
… ICE is already running out of space to hold people, and looking at "tent cities" as a supposedly-temporary expedient. You can bet that critics will start calling these "Trump's concentration camps," and the term will catch on if they're full of kids.




The polls were starting to suggest that Republicans might not lose big in this November's midterm elections, but they'll turn back the other way if this keeps up — and rightly so.




It's not just that this looks terrible in the eyes of the world. It is terrible: at least 2,000 children ripped from their parents' arms, sometimes literally, in just the first six weeks.




Maybe the White House figures families will stop coming once word gets out, but they won't all stop: Some are fleeing truly horrific situations back home.




We recognize that returning to the policy of two months back creates some perverse incentives: Bring kids along, and you'll just be deported if you're caught. But at least switching back avoids having the US government earning comparisons to the Nazis.
The Trump administration has claimed that years-old laws and court rulings require the separation of families who cross the border illegally, but those migrants were not detained during the George W. Bush or Barack Obama administrations. Trump officials have been considering enforcing the law in a way that would tear children from parents since they came to power, according to the New York Times, and the president finally agreed this spring.
White House senior policy adviser Stephen Miller was reportedly "instrumental" in this effort. He told the paper it's about deterring people thinking about trying to cross the border illegally. "It was a simple decision by the administration to have a zero-tolerance policy for illegal entry, period," he said. "The message is that no one is exempt from immigration law."
Other members of the administration seem less comfortable with the U.S. government traumatizing thousands of children just to strike fear into the hearts of would-be migrants. On Sunday Department of Homeland Security secretary Kirstjen Nielsen tried denying that the policy exists, though multiple officials have discussed it publicly, and her own department reported the number of families separated and issued a flyer for parents searching for their children.
President Trump has also acknowledged the policy in numerous tweets, along with his immigration demands and false attacks on Democrats, suggesting he'll let the separations keep happening until he gets a political win.
A White House official told the Washington Post (in comments later disputed by Kellyanne Conway) that aside from deterrence, the policy is about gaining leverage in congressional negotiations.
"The president has told folks that in lieu of the laws being fixed, he wants to use the enforcement mechanisms that we have," a White House official said. "The thinking in the building is to force people to the table."
So far it doesn't appear to be working. Two Republican immigration bills are headed to the House floor, but they may not pass that chamber, let alone the Senate.