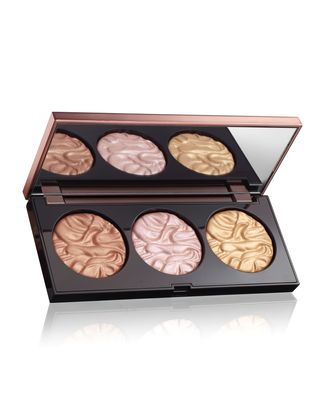 One of the best side effects of unbearably hot summer days is the "glow." Call it sweat, moisture, or shine, but glowy is the skin texture du jour. If you'd rather not venture out into the heat, then Laura Mercier's new limited-edition Illuminator Palette is the easiest way to fake it while enjoying the benefits of central air conditioning.
The new highlighter palette is part of Laura Mercier's many limited-edition summer launches. It's a luxe offering that comes with three pearly shades: Addiction (gold), Indiscretion (bronze), and Devotion (rose gold). All three shades are some of Laura Mercier's top sellers, and, as every "dewy dumpling" aspirant knows, you can never have too many highlighters.
All three pans have a "whipped" texture that makes them feel extra soft (just like "whipped" yogurt is fluffier than regular). The creamy formula won't leave you with flecks of highlighter all over your face. While some might want their highlight to be blinding, these are more natural. The shades Addiction and Indiscretion both add warmth to skin, depending on your tone. If you prefer a shimmery bronzed look, you can use the two darkest shades to bronze or contour while using the lightest shade, Devotion, to highlight.
The Illuminator Palette will be available at Nordstrom just in time for the Nordstrom Anniversary Sale in July — where you can rack up a ton of points on your Nordstrom card, as if you need another reason. And at $52, the palette is less than the cost of two individual highlighters.