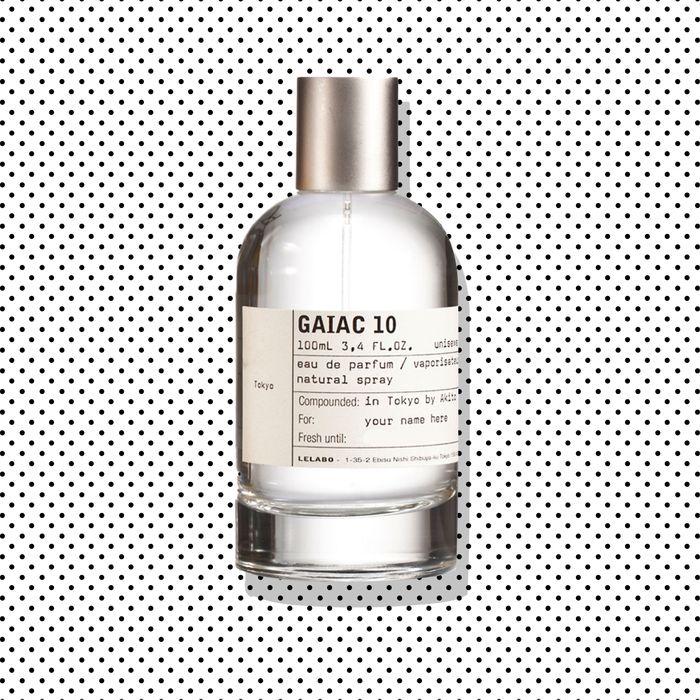 Let me get the worst thing about this perfume out of the way: It is only available in Tokyo. I'm so sorry. I realize how annoying this is. It wasn't fun for me to discover either. But I just had to go ahead and fall in love with a perfume you can only get in Japan.
I discovered Gaiac 10 in a Le Labo sample set during the brief once-a-year window called the City Exclusive Event when the brand's city-exclusive scents are available worldwide. Tokyo, with the best bookstore in the world and a healthy appreciation for kawaii culture, has always been one of my favorite cities, so I was naturally drawn to the perfume. Then I smelled it: a blend of soft cedar, gaiac wood (a form of palo santo), incense, and the velvety texture of laundry detergent. It was mysterious, intoxicating, intimate. I couldn't stop hungrily sniffing my wrist after putting it on. It was like nothing I'd ever smelled.
It's well-known that scents connect to memories. When I spray this on, I picture a plume of gray-white incense (not of the hippie patchouli variety, the Chinese kind) unfurling and disappearing into air. I remember sniffing a freshly laundered, crisp summer yukata (a lightweight kimono robe) at a ryokan (hot springs resort) with bamboo tatami mats. I think about being so close to someone that you know what the crook of their elbow smells like.
Gaiac 10 is also a little bit famous. While not as ubiquitous as Santal 33, Glossier's Emily Weiss has mentioned it as one of her favorites for years (Tatcha's Vicky Tsai also loves it). "When you catch a whiff of it, it smells like you're in that person's space," she said. It's also one of the scent inspirations for Glossier You, which won a Fragrance Foundation Award (the Oscars of perfume) earlier this week. Glossier You is a little less smoky, a little sweeter than Gaiac 10, and more accessible and less mysterious.
Frustratingly, the U.S. version of the Le Labo site doesn't even list Gaiac 10 as a fragrance because you can't buy it online. It's rare and hard to find, with really, really tiny sample vials of it on eBay for around $35. Your best bet is to check it out during the one month (September 1st - September 30th) Le Labo makes its City Exclusive scents available worldwide.