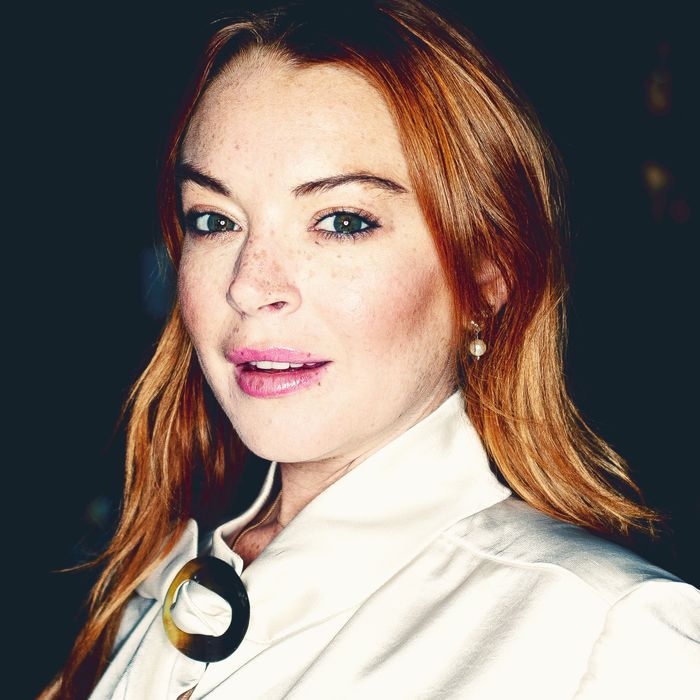 Lindsay Lohan.
Photo: Eduardo Parra/Getty Images
There's nothing quite like a Lindsay Lohan interview, and on this beautiful summer day the New York Times has blessed us with a new look into the actress turned entrepreneur's life. Gabrielle Bluestone visited Lohan (who currently lives in Dubai) at her beach club in Mykonos, shedding light on Lohan's religion, relationship to Tiffany Trump, and next business ventures (yes, including lawyer.com). Privacy is apparently a priority to Lohan now, such a big deal that she wouldn't pose for photos unless they were extra. Below are nine other things we learned about Lohan.
Her weird accent is gone
Lohan made headlines in 2016 for her bizarre, vaguely European accent. However, the Times reported that now there is "no trace" of it. She previously explained her accent as a blend of the languages she was trying to learn, including Russian, Turkish, Italian, and Arabic. But it's gone now, so RIP.
She's launching a Vanderpump Rules–style show about her life?
Lohan is focused on her Mykonos club, Lohan Beach House, which she designed "down to the playlists." She's going to open up another club soon in Rhodes, as well as designing an island in Dubai. On top of that, she also wants to launch a Vanderpump Rules–style reality show about her nightclub, which is a truly incredible idea.
She loves Dubai because it's "silent"
After being relentlessly covered by tabloids as a troubled teenager, Lohan is enjoying the privacy she can find in the eastern hemisphere. The fact that "no one knows" about her life allows her to "focus on the result of things."
"I think success is the best revenge — and silence, as a presence," she said. "When I chose to change my future, my life, I was like, 'Where's the one place I can find silence?'"
"It's less demanding," Lohan said. "America is always like, 'Go go go go go!' …I don't have to turn on the news and see about the Kardashians. I don't have to see anything anymore. I choose what I want to see and how I want to live."
Her favorite hat is one that says "RUSSIA"
While setting the scene at the Lohan Beach Club, the Times casually dropped in that Lohan herself was lounging on a branded towel with her "trusty red baseball hat with the word 'RUSSIA.'" She was previously engaged to Russian businessman Egor Tarabasov, and has previously said that she "respects" Putin.
Everything she was in the tabloids for as a teen is totally fine now, okay?!
Lohan repeatedly iterated that everything in her past is fine now, or at least in the past. "People have to just let go of it and stop bringing it up because it's not — it's gone," she said. "It's dead. And that's the most important thing to me." Also, her parents are now "friends."
She thinks Tiffany Trump is a "nice person" but has "no feelings" about the president.
Trump had mused in 2004 that Lohan was good in bed because she was "deeply troubled." Now that he's president, Lohan has no opinions on him. "I have no feeling. I have no emotion," she said. However, she did note that Tiffany, who she has been spotted with, is "a really sweet girl. Nice person."
She's not religious (anymore)
There was a period in Lohan's life where she was reading the Koran, wearing headscarfs, and sporting burkinis at the beach. Naturally, that sparked rumors that she had converted to Islam. Now, Lohan is not religious. However, she meditates twice a day, which she learned from Oprah.
She's friends with famous astrologer Susan Miller
She reveals that she reads Miller's lengthy forecasts and calls her a friend. Lohan, a Cancer, also said she's "learned to deal" with her friend posting her forecasts several days late.
She refuses to pose for any pictures, unless she's paid
She described the click of a paparazzo camera as "they're shooting guns at me," a phrase she learned from Karl Lagerfeld. The Times was supposed to do a photo shoot with her, but was informed the day of that Lohan wouldn't do it unless she was paid, or it was a fashion shoot. Her assistant told the Times, "We can give you exclusive photos, but she only does paid shoots. And if you want to have that discussion, you can, and maybe she'll consider it."
Read the full interview here.