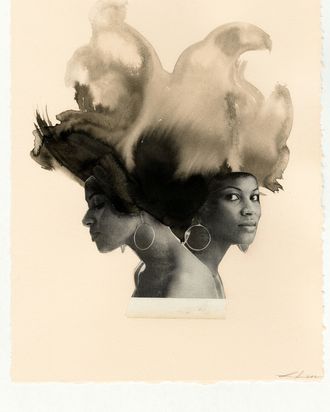 Touching
, by Lorna Simpson.
Photo: Courtesy of the artist and Hauser & Worth
After a record-breaking six-figure sale at Sotheby's in May, artist Lorna Simpson has released Lorna Simpson Collages, a new book featuring 160 of her celebrated collages culled from vintage textbooks and beauty advertisements in Ebony and Jet magazines. Using snippets of ad copy that range in tone from prescriptive ("Be the Huntress") to affirmative ("Nubian Queen"), the artworks remind viewers that fashion and beauty advertisers helped popularize the "Black is beautiful" credo that came out of the 1960s Black Power movement.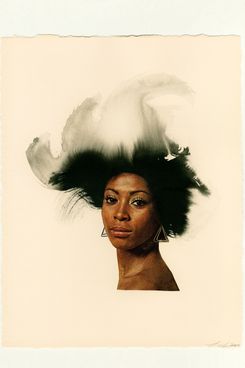 "I try to keep the collages very simple, as well as the character, the facing, and all the tropes of advertising from those particular moments," she once told the Paris Review. "They are amazing portraits, even for that time, because there is a subtext of political strife in terms of the before and after during the civil rights era."
The artist has had a busy few months: Her first solo show in London opened earlier this year at Hauser & Wirth, an esteemed contemporary and modern art gallery, and closed in April. In May, she was honored at the the Whitney Museum's star-studded annual gala for her innovative explorations of race and gender identity. And after 30-plus years working in multimedia, she recently told Vogue she has taken up painting.
As a visionary artist who continues to reinvent herself and push boundaries of perception, Simpson is also closely connected with the Studio Museum in Harlem, where she worked early in her career as an intern. And like a true New York native, she almost always wears all black — unless she's wearing colorful dresses by Duro Olowu, a Nigerian-born, London-based designer and the husband of Thelma Golden, the Studio Museum's director and chief curator.
"Freedom is Lorna Simpson's starting point and her permanent theme," Teju Cole wrote in The New York Times Magazine about her London show. "A humane current animates all of her work, a current that neither sidesteps nor confines itself to race."
Scroll to preview collages from the book. Lorna Simpson Collages is published by Chronicle Books.