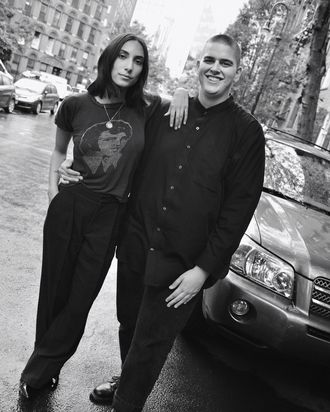 Lauren Rodriguez and Michael Freels.
Photo: Alex Hodor-Lee
Designers Lauren Rodriguez and Michael Freels have decided not to show on the traditional New York Fashion Week calendar, but their upstart label Lorod has still managed to create exactly the kind of buzz most 25-year-old creatives dream of.
For example, a few weeks before their resort 2019 show in June, a crowd of editors, models, and artists — all of whom were friends of the brand — gathered for martinis in the private room at Primo's, a hip new hotel bar in Tribeca designed by model Camilla Deterre.
Meanwhile, Lorod's runway shows, which feature the impeccably tailored denim they've become known for styled with Manolo Blahniks, take place in exquisite lofts around Manhattan. Being a part of Lorod world feels both casual and luxurious, inclusive yet cool.
Naturally, the personal taste of Rodriguez and Freels reflects that of their brand. Below, we asked them to share a few of their favorite things, from New York haunts to high-end candles.
How do you thank people for a gift? 
Lauren and Michael: With a handwritten note.
What's your dream vacation?
LR: A trip to Patagonia with my dog.
MF: A trip to Cape Town, South Africa.
What's a good book on your coffee table right now?
LR: Milk and Honey by Chase Hall.
MF: MacArthur Park by Andrew Durbin.
Favorite piece of furniture in your apartment/studio?
LR: A pair of giant planters in my kitchen that I found at a flea market. They're shaped like feet.
MF: A vintage Danish slatted bench that I found at the flea in college.
What's the last show you binge-watched?
LR: Handmaid's Tale and Transparent.
MF: Wild Wild Country.
What would you never wear?
LR: Wedges.
MF: Never say never! Context is everything. Or maybe jeggings.
Shoes you wear most often?
LR: Converse.
MF: Paraboot derby shoes.
What's the museum/gallery you frequent the most in New York?
LR: The Met.
MF: Bridget Donahue or Simone Subal Gallery.
What is a trend that you like right now? What about one you don't like, or at least don't understand?
LR: I like no makeup. I don't like pre-distressed clothing.
MF: I don't think that I'll ever understand micro handbags or athleisure.
What's your favorite …
Flower?
LR: Gardenias.
MF: Calla lily.
Pajamas?
LR: Preferably none.
MF: A big white T-shirt.
Candle?
LR: A.P.C. Feuille De Figuier or Maison Louis Marie No.09.
MF: Coqui Coqui's Tabaco candle.
Scent?
LR: Freshly baked cinnamon rolls or the ocean first thing in the morning.
MF: Anicka Yi's Shigenobu Twilight fragrance.
Sheets/bedding?
LR: Matteo linen.
MF: Muji basic washed cotton sheets.
Place to drink in New York? 
LR: McSorley's or the Carlyle.
MF: Lucky Strike.
Restaurant? 
LR: Katz's or Great Jones Cafe.
MF: Uncle Boons.
Suitcase?
L: North Face duffel.
MF: Away hard-shell carry-on.
Socks?
LR: Tabio toe socks.
MF: Uniqlo.
T-shirt?
LR: Lorod.
MF: Ours!
Visit Lorod's website here.
If you buy something through our links, New York may earn an affiliate commission.