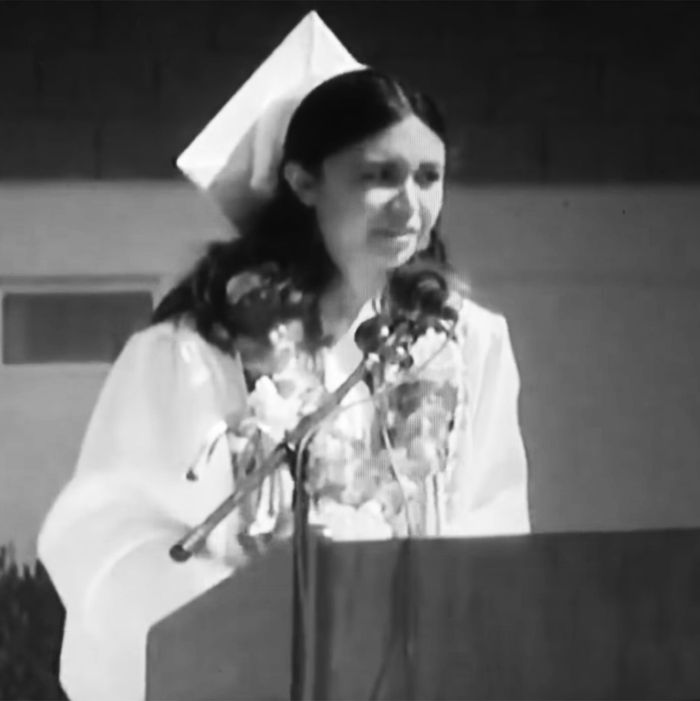 Four minutes into her high school graduation speech last week, 17-year-old Lulabel Seitz's microphone was cut off. Seitz, the valedictorian from Petaluma High School, in Petaluma, California, had discussed annoying P.E. uniforms, her immigrant family, and the teachers' strike last year, but when she started to talk about sexual assault, her mic went silent.
"Because the class of 2018 has demonstrated time and time again that we may be a new generation, but we are not too young to speak up, to dream, and to create change. Which is why, even when some people on this campus, those same people—" Seitz said before she was cut off. She walked to the side of the podium, and tried to continue shouting her speech, but almost nobody could hear her. Her classmates began chanting, "Let her speak!"
In a phone call with the Press Democrat, Seitz explained that she had been sexually assaulted on campus by someone she knew, and wanted to use her speech to call out the administration for their lack of action despite her formal complaint.
"When they cut my mic, I was appalled at them," the 17-year-old said. "I thought this is a public school with freedom of speech. This is for my class that stood up and said 'let her speak.' Even if the administration doesn't give me a mic, I still want to speak."
Seitz and the other student speakers had been warned several times beforehand by school administrators that their mics would be cut if they did not stick to their pre-approved speeches.
"In Lulabel's case, her approved speech didn't include any reference to an assault," Petaluma High School principal David Stirrat told the Washington Post. "We certainly would have considered such an addition, provided no individuals were named or defamed."
In a video posted to YouTube the day after her graduation, Seitz reads her speech in its entirety, including the portion that had been silenced.
"And even learning on a campus in which some people defend perpetrators of sexual assault, and silence their victims, we didn't let that drag us down."
Seitz, who is starting at Stanford University in the fall, has received widespread support online from people using the hashtag #letherspeak.
"Let her speak …" - often a necessary refrain when women speak truth to power," tweeted former Texas state senator Wendy Davis. (Back in 2013, the women of the Texas state senate chanted "Let her speak!" for Davis, when she was removed from the floor on a technicality, while she was filibustering a restrictive anti-abortion law.)
"I have a feeling we'll be hearing a good deal more from Lulabel Seitz as the future unfolds for this extraordinary young woman."