It's half past eight in the morning and Maggie Siff is absolutely surrounded by dogs. She calls this, the off-leash hours at Brooklyn's Prospect Park, "my happiest time of the day." Taking in the scene does feel like a hit of dopamine: Warm golden light shines down on lush green fields filled with dozens of dogs of every size and breed imaginable playing, fetching, and rolling on the grass. Siff's here with Augie, her affable 80-pound Labradoodle, who's making his daily rounds through the park.
"I don't really ever worry about him getting in a dog fight because he's so completely nonaggressive," she says, as Augie chases after a small pit bull mix named Pig. "He's so completely non-alpha."
Alpha males are something that Siff, 43, understands well: She's joked in the past that her television career has made her "the queen of toxic masculinity." As Wendy Rhoades on the deviously addictive financial drama Billions, she's at the center of a testosterone-soaked war between her hedge-fund-manager boss and her husband, the U.S. Attorney intent on taking him down. (In addition to working as Axe Capital's trusted corporate psychoanalyst and performance coach, she moonlights as her husband's dominatrix.) Then there was Siff's big break as Mad Men's Rachel Menken, a self-assured Jewish department-store head and Don Draper's one that got away. In between, she spent six seasons on the tough motorcycle-club drama Sons of Anarchy playing Dr. Tara Knowles, a biker gang leader's "old lady."
Siff plays women who are more than capable of holding their own against destructive men, but who don't shy away from their own moral ambiguity. The gravitational force for every scene she's in, she's become one of the most compelling actresses on TV — even if she doesn't have the best track record for survival. Her characters on Mad Men and Sons both met untimely ends, thanks respectively to leukemia and a barbecue fork. When it comes to Billions, she says, "I've told the guys, 'You are not allowed to kill me off.'"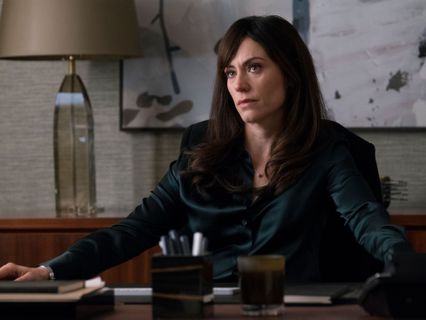 Really, the show would be hard-pressed to continue without Wendy. She's become a fan favorite over the course of three seasons. A power player with a perpetually sleek wardrobe of sheath dresses, heels, and sharp jewelry, she inhabits space forcefully but without bluster. (Though, perhaps, with some quiet malice: A recent essay argued that she's actually "the most villainous villain on Billions.")
"I play with her stillness because she sits and listens, and she listens in a way that is kind of supposed to make people squirm a bit," Siff explains. She's a soft and deliberate speaker, far less intense than her onscreen persona, a role she prepared for, in part, by consulting celebrity life coach Tony Robbins. Given the nature of our excursion, she's also more casually dressed, in wide-leg linen pants, a Levi's denim jacket, and sneakers. She and Wendy do share a fundamental trait, though: "I've always been an armchair super analyzer of people," she says. "It's always been a fascination for me — What makes this person tick? Talking to a new person and being like, What's really going on here?"
So she tells me, a new person whom she's talking to.
At one point in our conversation, she suddenly shifts into full Wendy mode. I'm trying and failing to get Siff to admit whom she's rooting for on Billions: Wendy's boss, Axe (Damian Lewis), or her husband, Chuck (Paul Giamatti). Regardless of your real-world politics and ethics, it's impossible to watch the show and not feel some sort of allegiance for one of these delightful sociopaths. Siff demurs — then, a split-second later, looks directly into my eyes with a flash of understanding and shoots off a startingly straightforward assessment: "You root for Axe." She's right, of course, having swiftly and precisely pinned down my counterintuitive choice.
All of Siff's best-known roles have been what are often termed "strong female characters," a phrase that's become both a punch-line cliché and a persistent reminder that onscreen opportunities for women are still lacking. "I think I've been lucky," she says. "There are more roles out there for interesting, smart, powerful women now than there used to be. Also, there are lots of roles that I've auditioned for over the years that have been good roles and good projects, but there is some piece of them that I take offense to." For better or worse, she found that her innate skepticism tended to disqualify her from "slightly more traditional, ingénuish" parts. "If I ever walk into an audition with any ounce of judgment in my mind, I can't really perform very well." (She explored these questions when she produced and starred in 2017's indie film A Woman, a Part; in it, she plays a Los Angeles–based actress in her 40s who, burnt out after years in a one-dimensional television role, returns to her theater roots in New York.)
Siff didn't make it to Hollywood until her 30s, giving her ample time to build up "wisdom and wherewithal and grit." She was raised in the Bronx by former hippies who had both been actors at different points in their lives. Siff always knew she wanted to act, but at her parents' urging, she prioritized her education, attending the Bronx High School of Science. She was performing a monologue for the speech-and-debate team when a drama teacher noticed her and suggested she participate in plays at his all-boys Catholic school — her first foray, you could say, into male-dominated spaces. Next came college at Bryn Mawr, and several years working in theater before returning for an MFA at NYU. She had a slew of odd jobs along the way, including one that would prove to be useful way down the line, even if it didn't feel that way at the time: temping at a hedge fund. "I don't remember a single woman at that company," Siff recalls. "It was just like a sea of bros."
When Billions creators Brian Koppelman and David Levien were casting their hedge fund, they auditioned almost 100 women for the role of Wendy, and even considered changing up the team before they saw Siff's audition tape. "A lot of people, when they read stuff when they're auditioning and it's clear that the character is smart, they try to put on what they perceive to be the affect of a smart person," Koppelman tells me. "But because Maggie Siff herself has just tremendous intellectual wattage, she didn't have to put anything on."
As we're ambling through the park and Augie's off intently sniffing a patch of grass, I want to know, Does she ever get sick of it, of being described ad nauseam as the "strong female character?" Siff says she doesn't mind, no, but it's not what she sets out to accomplish.
"The most important thing to me isn't necessarily that a character is strong," she explains, "but that a character is full and that you get a really amazing 360-degree view of who a woman is." Nor does she want strictly to serve as a show's moral compass. "If you're not behaving badly you're a little bit boring," Siff says of Billions, for instance. "As an actor, I don't want to be boring, and I don't want to live in a small corner of the narrative." Plus, she's not exactly a gender essentialist, as evidenced when she brings up one of her favorite novels: Virginia Woolf's Orlando. "The character transforms from a man to a woman, and I've always loved characters who just hold that position within them," she shares. "Playing women who are in certain ways very 'masculine' and in other ways very soft."
Beyond her creative desires, she has another reason to be even pickier with her choices: her 4-year-old daughter, Lucy, whom she's raising with husband Paul Ratliff, a psychoanalyst-in-training. "When I first had her, I was like, 'I'm never going to act again,'" she says. "I just couldn't imagine performing and taking care of this tiny life. Like, how is it conceivable that I would put on a costume and makeup and pretend to be somebody else?" Even now that her daughter's slightly older, Siff — a self-described homebody — says she's either "on set or at home on the floor with my child in sweatpants."
Siff seems to have managed to insulate and compartmentalize her life in a way that's impressive for an average civilian, much less a working actress. She eschews social media entirely — no Facebook, no Twitter, no Instagram — largely out of a desire for self-protection. "The pressure to have that kind of presence and to share and expose yourself that way," she says, "it kind of makes me feel a little sick to my stomach." And despite her onscreen bravado, she identifies as an introvert — with exceptions. "I love communal life when it is really communal life," she clarifies. "I don't love crowds. I don't love parties where I don't know anybody."
In Prospect Park, Siff and Augie greet friends, acquaintances, and strangers — dogs and humans alike — warmly. The scene is so storybook-pastoral that it seems to exist on a different plane not only from the city but the greater world at large. It's not, of course, and certain power dynamics still stand: A dog named Vulcan gets scolded for being too intrusive. Another, Waffle, is relegated back on a leash after being disobedient. But Augie's so sweet and easygoing — a lover, not a fighter — that, offscreen, Maggie Siff gets a break from all of that.