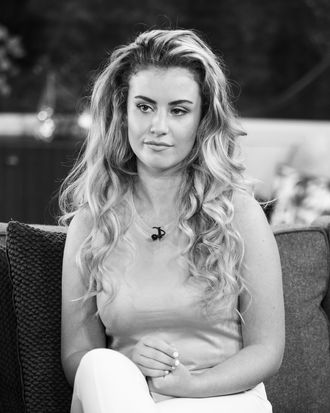 Chloe Ayling.
Photo: Ken McKay/ITV/REX/Shutterstock
A man has been sentenced to 16 years in prison for kidnapping a British model — a bizarre case that made headlines last summer — the Associated Press reports.
Last July, 20-year-old Chloe Ayling arrived at what she presumed to be a photo shoot in Milan. She was drugged and transported to a house in a nearby rural town, and held by men who purported to be in a sex trafficking organization they called the "Black Death Group." She was released to the British consulate in Milan after her captors realized she was a mother to a 2-year-old son. Ayling told police that her kidnappers had planned to sell her in the Middle East.
Thirty-year-old Polish national Lucasz Herba, the man convicted of her kidnapping, told the court that Ayling had been in on the plan all along and that he had invented the so-called sex trafficking organization. Herba also claims that he and Ayling were in love and that this was all a scheme to "boost her career."
"This has been an incredible burden on her shoulders for the last year in the face of media criticism of her motivation," Ayling's agent said after the verdict was handed down. "And this is vindication — her story is true."