It's a hot, still afternoon in early summer, and the writer Megan Abbott is giving me a crime tour of Forest Hills, her leafy Queens neighborhood, famous for more than just its historic tennis stadium and faux-Tudor houses. There's the playground ("My friend takes her kids there") where, 11 years ago, a Bukharan Jewish orthodontist was shot to death while dropping off his 4-year-old daughter — apparently by a hit man hired by his estranged wife. (The trial was the subject of an article by the critic Janet Malcolm, published later as Iphigenia in Forest Hills.) There's the residence of the "cannibal cop," a New York City policeman convicted of plotting to kidnap, murder, and cook women, including his estranged wife. Abbott was walking by during his arrest, noticed the commotion, and came home to learn the news: "He lived right here!" And always in the background is the 1964 rape and murder of Kitty Genovese in nearby Kew Gardens, which took place in the courtyard of her apartment building while neighbors reportedly ignored her cries for help. Abbott still remembers the crime whenever she passes by. "I can never not think of it," she says.
Contemplating the possibility of evil in familiar settings has proved fertile for Abbott's imagination. The author of popular and critically acclaimed suspense novels — Give Me Your Hand will be her ninth — she is particularly drawn to hothouse environments where women and girls push themselves to the breaking point. Dare Me (2012) follows a team of cheerleaders through a brutal competition season during which a man close to the girls turns up dead. The TV pilot, which Abbott co-wrote, will start shooting in August.
"It was sold as 'Friday Night Lights for girls,' but it's darker, because girls are darker than boys," Abbott says. Petite and slender, she has the quick energy of a sparrow, her thoughts spilling out in such a rush that she continually interrupts herself. You Will Know Me (2016), centered on an elite gymnast, also upends expectations about adolescent girls and what they're capable of while exploring the tensions beneath the surface of family life: parents and children, husbands and wives, brothers and sisters.
"I have a lot of female murderers," Abbott says, laughing. We've ended up at her apartment, which is filled with tokens of her abiding fascinations: cheesy posters for the films Julie and The Sound and the Fury; stacks of pulp novels by Raymond Chandler, Chester Himes, and James M. Cain (she wrote her Ph.D. dissertation on constructions of white masculinity in their works). The shelves above her tiny writing desk are lined with "totems": a statue of Freud; the clay head of a black cat, its gaping mouth filled with Post-its; a prayer candle with the image of Saint Clare, whom Abbott, who wrote for HBO's The Deuce, identifies as "the patron saint for television." A quote is scotch-taped above the computer monitor: "Last night I got my period so hard it WOKE ME UP."
A variation of the line appears in Give Me Your Hand, the story of Kit and Diane, two young, brilliant female scientists who were briefly best friends in high school but grew apart after Diane confessed a terrible secret. They reunite as researchers in a lab where both must compete for the attention of their supervisor, Dr. Severin, an austere woman in shiny boots of leather. She's conducting a new study of premenstrual dysphoric disorder (PMDD), an extreme and horrifying form of PMS in which women can experience severe depression, anxiety, mood swings, and paranoia. The disorder is said to affect at least 3 to 8 percent of women, but since it's tricky to diagnose, the numbers may be higher. Abbott was attracted to the idea of writing about PMDD after learning it has been used as a criminal defense. "There's this notion of women's bodies being out of control, so out of control that men don't understand it at all," she says. "So it's a very smart defense, because if no one wants to talk about it, then they just assume that women are capable of anything."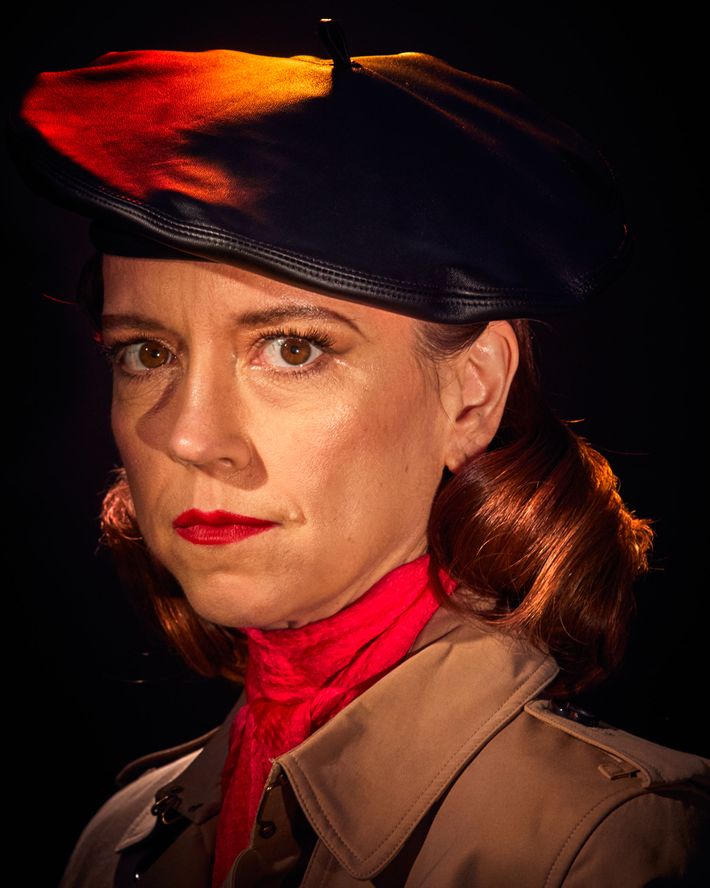 Give Me Your Hand plays with cultural constructions of female "blood rage," often in a self-consciously ironic way. "Let's toast female hormonal madness! … Will we ever penetrate its surface, fathom its depths, dissect its enigmas, lay bare its witchy power?" one character jokes. There are references to Hamlet, Stephen King's Carrie, and the poetry of Sylvia Plath, which Abbott listened to recordings of, via YouTube, while she was writing the novel. Beneath those layers is a profoundly intelligent probing into precisely what motivates women to kill. Could there be something essential, even on a cellular level, that drives women to violence, as Dr. Severin speculates? ("What woman can't imagine … that, one month, the usual cramps and moodiness might suddenly spiral up into something larger?") Or is that just a fantasy born of millennia of male subjugation of women, with the reality a complex mash-up of social as well as biological factors?
The seductive female criminal, a.k.a. femme fatale, has always been a noir staple: Mary Astor in The Maltese Falcon, Ava Gardner in The Killers. But Abbott argues that these characters aren't psychologically authentic. They're "a projection of male anxiety," she says, vampy caricatures whose primary purpose is to use their irresistible charms to lure the detective-hero into a setup. As Abbott sees it, classic noir "always comes back to the idea of femininity as a kind of dark continent." Male writers "really don't want to look in there," she says. They want to believe female violence "is always an aberration … What if those stories had been told from the femme fatale's point of view? Think how different they would look."
The past decade or so has seen the rise of a new cohort of women thriller writers — in addition to Abbott, there's Gillian Flynn, Paula Hawkins, and Ruth Ware, among others — whose works not only place female killers in a central role but also treat them as complex, fully realized individuals. "It's a radical subversion," says Abbott (sounding for a moment like the English professor she used to be) about Flynn's Gone Girl, which switches in perspective between a husband and wife and plays with the conventions of crime fiction.
Among this group, Abbott's books stand out as the most literarily sophisticated and the most psychologically insightful. The crimes that drive her plots aren't just mysteries to be solved — in fact, in Give Me Your Hand, the murderer's identity is never concealed — but jumping-off points for stories that, much more ambitiously, are concerned with the dynamics of human relationships. As she depicts it, crime isn't usually a product of uncontrollable passion or rage, something "in the blood"; it's a thin line that many of us could cross almost accidentally, given the right provocation.
As the afternoon shadows lengthen, our conversation ranges from the recent death of Philip Roth — "His books were smart and dirty, and until then, I didn't know you could be both," she wrote in an appreciation — to Flowers in the Attic, the blockbuster 1979 horror novel by V. C. Andrews that a generation of girls passed around in locker rooms and summer camps. "All those dark feelings you're not supposed to have as a girl, it gave you license to have," Abbott says. It's another novel with — spoiler alert — a female killer. "There's so few examples of the dead boy who everybody fantasizes about or projects things onto," she muses later. "It just never happens." I ask why. "Patriarchy!" she replies.
"But with the men, again, it's really not about the girl at all," she says. "It's a projection of a set of male feelings. And I don't think women have the same desire to do that. Or we just don't — with TV and film, we just haven't had the chance. Maybe now we will."
"We'll have a whole rash of dead boys," I suggest.
Abbott laughs. "We can only hope!"
*This article appears in the June 25, 2018, issue of New York Magazine. Subscribe Now!