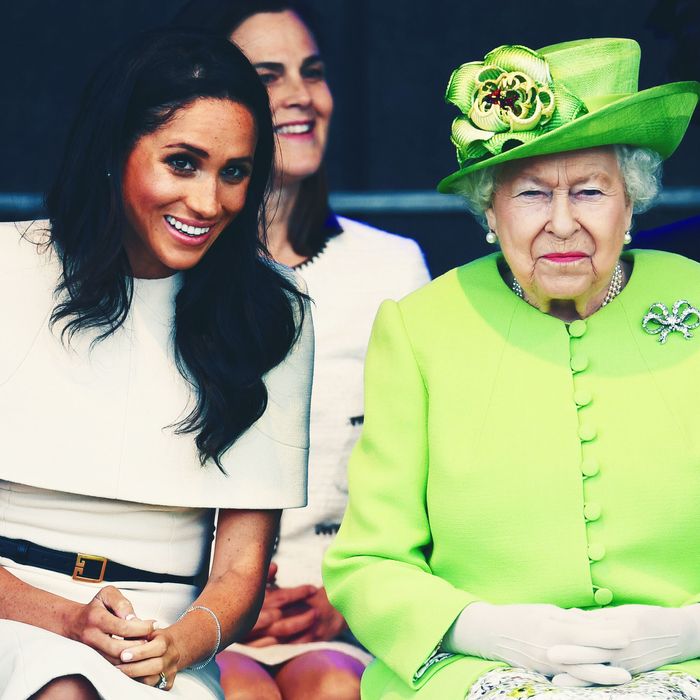 Meghan Markle and Queen Elizabeth.
Photo: Jeff J Mitchell/Getty Images
In completely unsurprising news, Meghan Markle's dad, Thomas Markle Sr., is continuing to air his dirty laundry to the press. Shortly after his extremely messy interview with Good Morning Britain (during which Thomas detailed how Meghan told him about her royal romance and claimed Prince Harry told him to give Donald Trump a "chance" — sure, okay), Thomas has returned to his outlet of choice — TMZ, of course — to, well, pick a fight with Queen Elizabeth.
As you're surely aware, Thomas loves to pick up the phone to chat with TMZ about his daughter and her new royal family, instead of actually reaching out to his daughter and her new royal family directly. And right on cue, he opted to speak with the gossip publication to let them know how pissed he is that no one in the royal family reached out to him after his Good Morning Britain interview.
Thomas told TMZ that he thinks he's getting the cold shoulder from the royals (which, uh, duh). Then he brought up Queen Elizabeth's upcoming visit from the president of the United States.
"If the Queen is willing to meet our arrogant and insensitive president she has no excuse not to meet me, I'm nowhere near as bad," Thomas told TMZ.
Well, one is a diplomatic meeting with the head of an ally country, while the other is a meeting with her new granddaughter-in-law's messy father. Doesn't seem like there's much room for comparison.