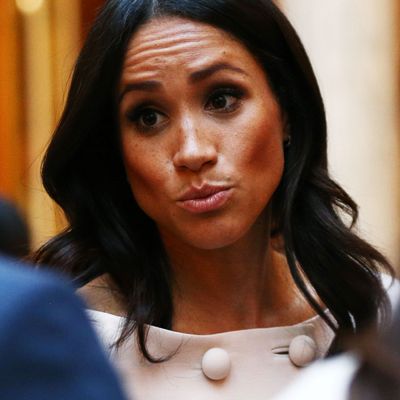 Meghan Markle.
Photo: Yui Mok/Getty Images
Sucking up to difficult mothers-in-law is one thing, but doing the same to grandmothers-in-law is a whole other story. And Meghan Markle's, who just so happens to be a queen or whatever, has forced the new royal to give up one harmless activity that brings her great joy in life: eating garlic.
According to Express, Queen Elizabeth simply cannot stand pungent garlic breath, so she has banned the other royals from consuming it in any way while abroad for state banquets and events. In fact, the 92-year-old isn't crazy about alliums in general, so she would never dare serve anything like French onion soup or tarte à l'oignon.
"We can never serve anything with garlic or too much onions," Darren McGrady, the royal chef at Buckingham Palace, told Express. "The Queen would never have garlic on the menu."
While giving up garlic might be easy for a very small part of the population, it certainly isn't for Markle, whose favorite dish is a total garlic bomb. In multiple interviews before she officially became a royal, the Duchess of Sussex waxed poetic about her love of Filipino chicken adobo, which calls for more than a few cloves of the good stuff.
Hopefully, she still sneaks it into her favorite roast-chicken recipe. Given that dish was the one that inspired Prince Harry to propose, one can assume they live in a secret pro-garlic household.