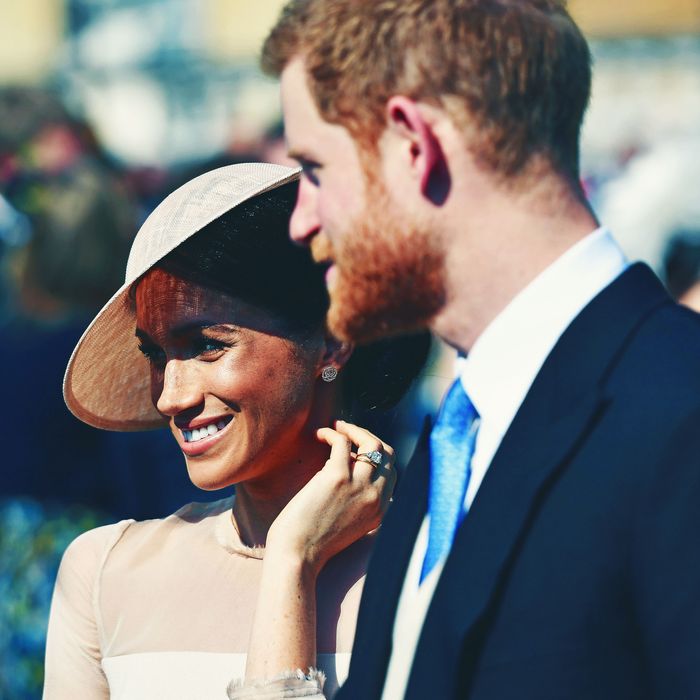 Meghan Markle and Prince Harry.
Photo: Dominic Lipinski/AFP/Getty Images
Meghan Markle — who is "always going to be Meg" — may be busy with her intense duchess training, but she will also soon be reportedly setting aside some time to make a royal baby with Prince Harry, thank God.
According to Us Weekly the newly minted Duke and Duchess of Sussex may or may not currently be on their honeymoon (and if so, are they in Canada or Africa? On a beach or visiting the set of Suits? Are they really enjoying "good mix of sea and sun" or do they want to crash on my couch for a few days?). But beyond keeping their honeymoon location a secret, the royal couple is also apparently focused on starting a family.
A "source" close to Meghan told Us Weekly that "having children is definitely a priority." The "source" (who??) added, "She and Harry want to start a family right away — and she'll start trying as soon as she can."
I personally think they should have a baby immediately and maybe name it Kelly after my colleague Kelly Conaboy, since her name is still up for grabs following Kate Middleton and Prince William's decision to name their third child Louis. In my opinion, Meghan and Prince Harry's baby will be very cute and I will love it very much. But unfortunately, according to the "source," Meghan and Prince Harry aren't making that baby quite yet.
"Harry and Meghan won't rush into anything," the source said. "They have a lot on their plate right now. But they both think that when the moment feels right, that will be the time to go for it. They'll make fantastic parents."
Oh well, I guess this gives me time to work on my petition for godparent status.
Check out our official updates on the birth of Meghan Markle and Prince Harry's royal baby.