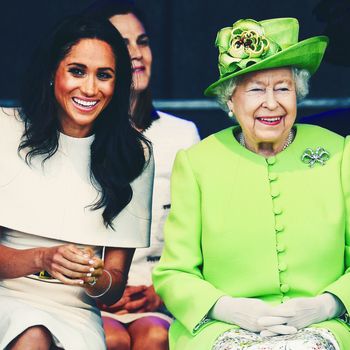 Meghan Markle and Queen Elizabeth.
Photo: Jeff J Mitchell/Getty Images
Meghan Markle and Queen Elizabeth went on an epic royal girls' road trip on Thursday (to attend the opening of a new bridge, naturally).
They rolled into Cheshire, U.K., less than 200 miles north of London, that morning on a royal luxury train, which is packed with private bed- and bathrooms, "saloons" (???), dining rooms, and all the other fancy things you could possibly imagine.
And after the regal buddy-comedy duo arrived in town, they laughed, they (well, Meghan) got confused about royal car-entering etiquette, and then they laughed some more. Simply put, ol' Meg and Liz seemed to be having the time of their lives together.
Below, a video of the pair's best moments together on their first road trip, which we can only hope is the first of many to come.