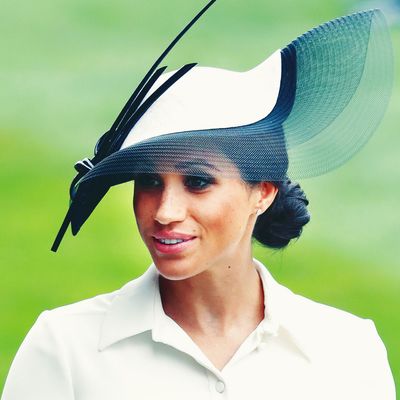 Ol' Whatshername.
Photo: Max Mumby/Indigo/Getty Images
Have you heard of Meghan Markle? She's a former USA Network star who, last month, married Prince Harry, a ginger who is sixth in line to the British throne after his dad, brother, and three kids under the age of 5. On Tuesday, Markle and the rest of Britain's aristocracy attended the Royal Ascot horse race, where Markle wore a nice Givenchy dress and a fancy British hat called a fascinator, but she didn't wear the name tag typically donned by guests in the exclusive royal box. Do you think anyone knew who she was?
Do you think other rich people went up to talk to her and then, seeing she didn't have a name tag, panicked and walked away?
Maybe Prince Harry introduced her to an old friend and was like, "Alright, Malcolm old chap? This is my betrothed, Meghan." And Malcolm was like, "Marilyn, pleasure to meet you!" and then pointed at his own name tag and said, "The name's Malcolm," and Meghan didn't correct him because she didn't want to make it awkward.
Or maybe, in between one of the races, after a few rounds of Pimm's, a minor Earl offered to write Meghan an acrostic poem on a cocktail napkin, but he spelled her name "MEGYN" so when he gave it to her she thought to herself, "What am I supposed to do with this?"
Possibly, the daughter of an international shipping magnate hurried up to her cousin at one point and said, "Fiona, darling, you won't believe who I just saw over in the Royal Enclosure — it was that girl from the hit USA Network show Suits. I don't remember her name though, and she wasn't wearing a name tag. I want to say it was … Sarah? Beth?"
Do you think that's what happened?