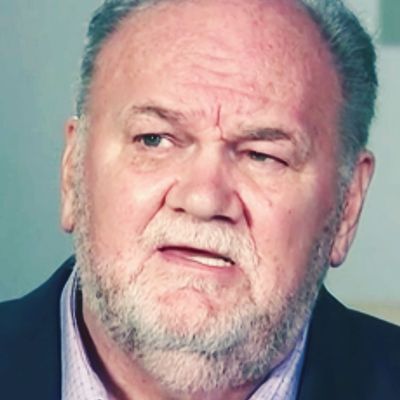 Thomas Markle Sr.
Photo: Good Morning Britan
Looks like Meghan Markle's father, Thomas Markle Sr., has recovered from his recent health issues, since he's back to doing what he and his extended family do best: talking about the newly minted Duchess of Sussex in the press.
Appearing on Good Morning Britain on Monday — the day after Father's Day in the U.S. — Prince Harry's new father-in-law told hosts Piers Morgan and Susanna Reid all about his daughter's relationship, and also what Prince Harry told him about President Donald Trump. First, Thomas explained how he found out about his daughter's royal romance. She apparently told him, "Daddy, I have a new boyfriend," to which Thomas replied, "That's really nice." In subsequent calls, Meghan revealed that her boyfriend was "a prince," and then eventually, that he was Prince Harry.
Thomas then went on to dish about giving Prince Harry permission to marry Meghan. He said:
Meghan told me first, and then a few times after that, Harry got on the phone with Meghan. They got on the phone together, and Harry asked for her hand over the phone. I said, 'You're a gentleman. Promise me you'll never raise your hand against my daughter and of course I give you my permission.
Of course, Thomas also spoke about not being able to attend the royal wedding, and the teary moment he informed Meghan of his impending absence.
Beyond that, Thomas said that Meghan has wanted children for a "long time," which is not new or surprising information for anyone.
But then he did make some surprising political comments about Prince Harry, which we all should take with a grain of salt given that this is a man who staged paparazzi photographs of himself in exchange for a hefty sum. Thomas said that, in a "loose conversation," the prince seemed to view Brexit as an "experiment" — and Prince Harry also supposedly told Thomas to give Trump "a chance." Per The Guardian, Thomas said:
I've always have a bad attitude about Donald Trump and that's never going to change. My God, I've got to apologize to the rest of the world for my president. All Harry actually did was say because Trump was new, he said: "Give him a chance."
As you can likely imagine, British royal correspondents are reporting that Kensington Palace did not give Thomas approval for this TV interview — and that he was apparently paid "a few thousand pounds" for his appearance.