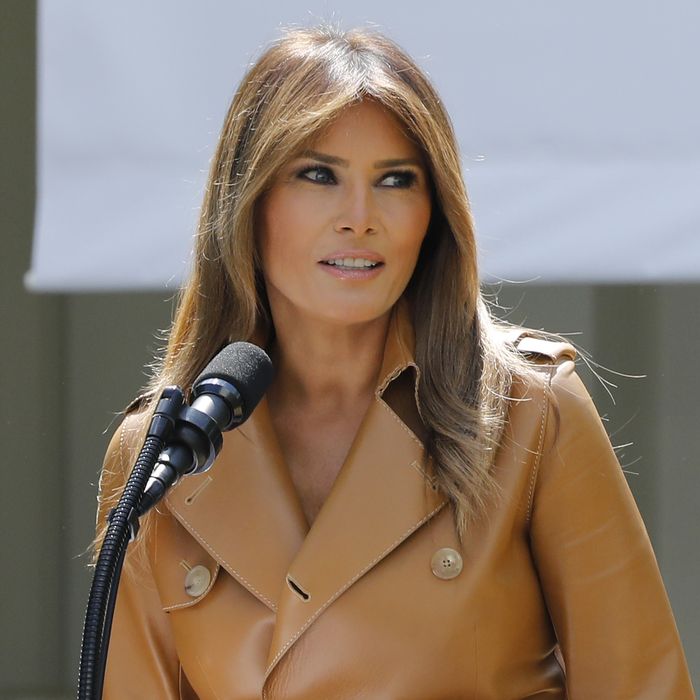 Have you seen this First Lady?
Photo: Bloomberg/Bloomberg via Getty Images
While there are certainly bigger issues in the world right now (Samantha Bee calling Ivanka Trump a dirty word, the Drake–Pusha-T beef, etc.) the disappearance of Melania Trump has captured the public's overactive imagination. Is she recovering from a kidney procedure or a "kidney procedure"? Is she taking refuge with the Obamas? Is she just enjoying some time off because she was never that into being First Lady to begin with?
Here's what we know: The first lady has not appeared in public since May 10, when she and President Trump welcomed Americans citizens imprisoned in North Korea back to the U.S. Four days later, the White House announced that she successfully underwent an "embolization procedure" for a "benign kidney condition." At the end of the month, as questions arose about why she still hadn't reemerged, Melania's spokesperson, Stephanie Grisham, insisted that she's been at the White House "working hard and participating in several meetings." People remained unconvinced, especially after she sent out a tweet that sounded suspiciously like her husband wrote it:
But on Monday members of the public will get a chance to check on the First Lady themselves … if they happen to be attending an event honoring Gold Star families at the White House. On Sunday Grisham said Melania will join her husband in hosting the Gold Star Families Memorial Day Reception. The event, which is scheduled for 5:30 p.m., will be closed to the press. As CNN notes, last year the White House only released a statement following the reception with a snippet of the First Lady's remarks, so we probably shouldn't expect to see any photos from the event.
Melania's semi-public appearance is unlikely to squash speculation that there's something amiss with the First Lady. This weekend she skipped a family trip to Camp David (which even Tiffany attended). The White House also announced that she will not be accompanying the president to the G7 Summit in Quebec later this week (which she attended last year), or his meeting with Kim Jong-un in Singapore on June 12. If the president needs a hand to hold, who will be there to swat it away?