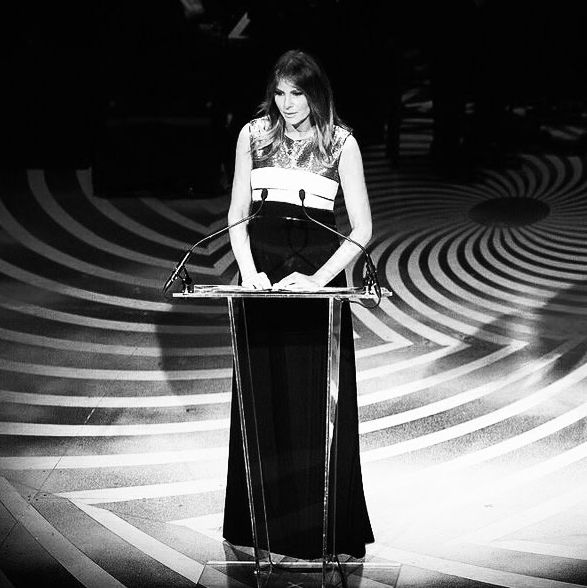 Melania Trump.
Photo: @FLOTUS/Twitter
Last month, First Lady Melania Trump disappeared for 25 days following an embolization procedure that has been described by her husband as both a "little problem" and a "big operation," so who knows. But now Melania's back, baby, and ready to resume her busy schedule of pointing at things and swatting the president's hands away.
On Sunday, the First Lady attended the Ford's Theatre annual gala as its honorary chairperson, one of her first public appearances since she fell off the face of the Earth in mid-May. In a speech at the end of the evening, Melania thanked the evening's performers, and congratulated Jack Nicklaus and Sheila Johnson, who had been awarded the Lincoln Medal for exemplifying "the lasting legacy and mettle of character embodied by Abraham Lincoln."
"Tonight reminds all of us about the power the arts have in cultivating the American voice," the First Lady said. "Thank you to Ford's Theatre Society for tonight, and your continued dedication to education and leadership in the arts — the impact they have on society is invaluable and something we will continue to cherish throughout time."
It is unclear whether the president — who did not attend the event because he is currently in Singapore for his historic meeting with North Korean leader Kim Jong-un — also feels that the arts have an "invaluable" impact on society. Earlier this year, Trump proposed slashing the budgets of the National Endowment for the Arts and the National Endowment for the Humanities, a request that was denied by Congress.
Anyway, welcome back, Melania. We feel excited, nervous, and respected to have you.