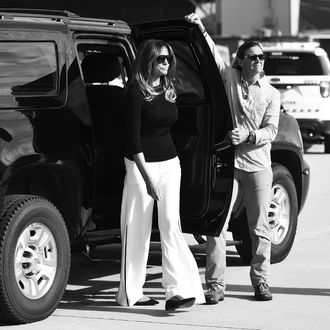 Melania Trump.
Photo: Mandel Ngan/AFP/Getty Images
It looks like Melania Trump finally got the memo that it's not advisable to show up to a detention center for vulnerable, unaccompanied immigrant children — some of whom were ripped from their parents' arms by policies enacted by your own spouse's administration — having worn a jacket that proclaims you "really don't care" on the plane ride down.
On Thursday morning, the First Lady left her tasteless Zara jacket and stilettos at home and instead sported a simple black-and-white look on her second trip to a child detention center in Tucson, Arizona. Wearing a three-quarter-sleeve black shirt, white trousers with a black track stripe, and black flats (that she later swapped out for white sneakers), the First Lady's sartorial choices aren't likely to cause any major controversies this week.
Hervé Pierre — or someone else — must have gotten to Melania before she stepped out of the White House this morning.