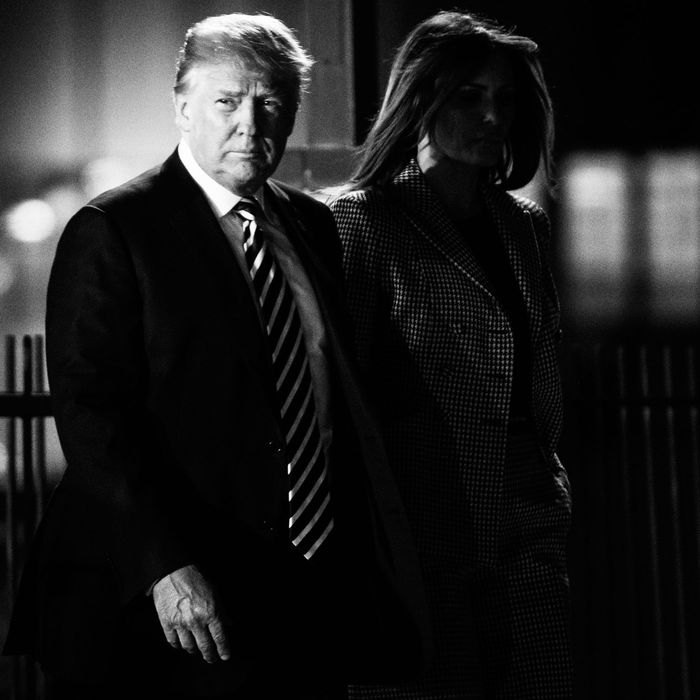 Donald Trump and Melania Trump.
Photo: The Washington Post/The Washington Post/Getty Images
It appears that Melania Trump is finally, sort of, back. Twenty-five days after she last made a public appearance, on Monday the missing First Lady attended an event honoring Gold Star families at the White House. And, while we don't have many details or photos from the Gold Star Families Memorial Day Reception, as it was closed to the press, one reporter who was somehow in attendance tweeted some of Trump's uncomfortable remarks about his wife's absence.
According to Jena Greene, a reporter for the right-wing outlet the Daily Caller, Trump said, "Melania had a little problem a couple weeks ago but she wouldn't miss this for anything." This comment is presumably in reference to Melania's hospitalization on May 14 for a benign kidney problem, which kept her at Walter Reed National Military Medical Center for five nights. But do we really know?
While Greene tweeted that the First Lady is "doing well," this appearance does little to squash speculation that something is seriously amiss with Melania. Why is she not attending the G7 Summit in Quebec, which she made it to last year, later this week? Why isn't she accompanying her husband to Singapore for a meeting with Kim Jong-un next week? And, amid the circulation of conspiracy theories related to her absence, why didn't she just make a brief public appearance to shut it all down?
Though the state of Melania's well-being is less clear, Trump is certainly feeling fine, and acting like his typical tacky self. Laughing off rumors about the dissolution of your marriage in a room full of families of service members who were killed in the Iraq War — that's our president!