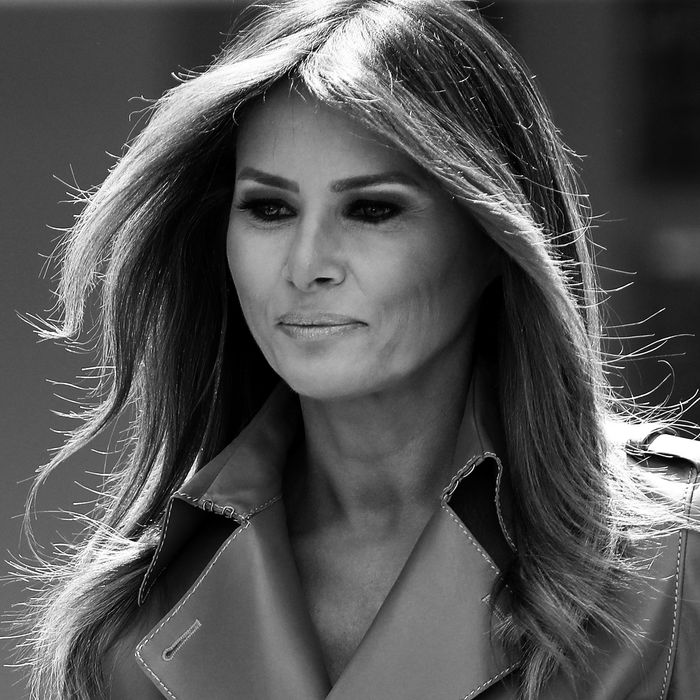 Melania Trump.
Photo: Win McNamee/Getty Images
Twenty-five days after her last public appearance — and weeks of Carmen Sandiego–esque guesses on her whereabouts — Melania Trump finally reemerged on Monday night during an event honoring Gold Star families at the White House. The event was technically closed to the press (even though some reporters were in attendance), but to prove that she was actually there, the First Lady shared images of herself sitting in the audience.
There she is! And look, there's video, too.
Jena Greene, a reporter for the right-wing publication the Daily Caller, tweeted that Trump said during the event, "Melania had a little problem a couple weeks ago but she wouldn't miss this for anything." The comment was presumably a reference to Melania's hospitalization on May 14 for a benign kidney problem, for which she spent five nights at Walter Reed National Military Medical Center.
However, Melania hadn't reappeared following her hospitalization — until now — and conspiracy theories about her disappearance were popping up all over social media. It was particularly odd that she was not attending this week's G7 Summit in Quebec, which she made it to last year, and that she was also skipping a trip with her husband to Singapore for a meeting with Kim Jong-un next week.
So, how did Melania seem during the Monday night event, her first public appearance in nearly a month? Who knows! All we've been told is that she apparently looked great. Per CBS News:
"She looked beautiful," said retired Sgt. 1st Class Diana Pike. Pike's son, Chief Petty Officer Christian Pike, of Peoria, Arizona, died in 2013 from injuries suffered in Afghanistan. "She just looked so beautiful."
Welcome back, Melania!