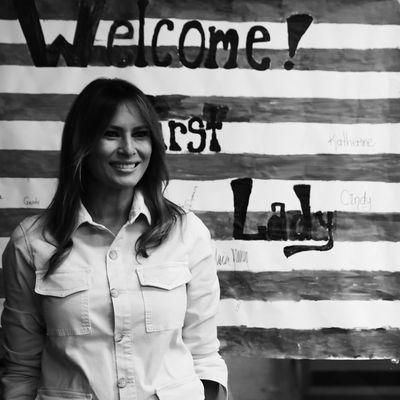 Melania Trump.
Photo: Chip Somodevilla/Getty Images
Last week, Melania Trump boarded a plane to visit detained children who were separated from their parents under her husband's zero-tolerance immigration policy … while wearing a jacket with the message "I really don't care, do u?" painted on the back. Her outfit choice sparked immediate controversy; President Donald Trump later confirmed on Twitter that Melania just really doesn't care (about the media, apparently).
And now, well, the First Lady has decided to visit another immigrant detention center this week, her spokesperson confirms.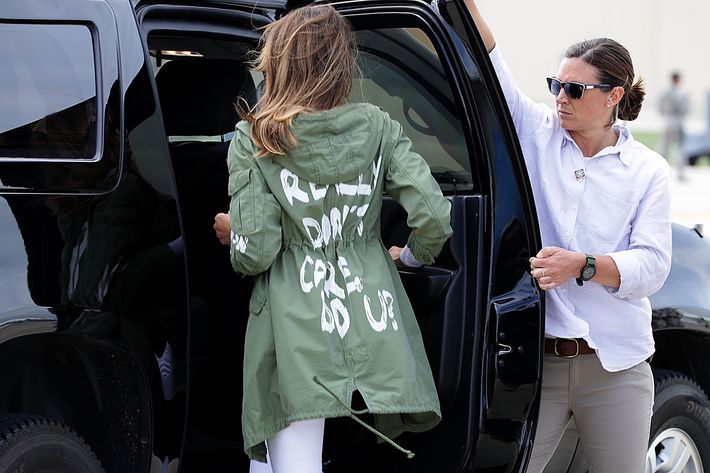 The First Lady's director of communications Stephanie Grisham told The Hill on Tuesday that Melania will be making another visit to immigrant detention facilities this week. No additional details of the visit — including the date or location — were released. This will be her second visit in two weeks to such a center; last week Melania visited a facility for detained children in McAllen, Texas.
During her visit in Texas, Melania asked immigration officials (each of whom were following the Trump administration's brutal policy) several questions. She asked how often the kids spoke with their parents, the conditions they were living in, and what she could do to help reunite the kids with their families. Grisham, meanwhile, said that the trip was "100 percent" Melania's idea, adding, "She wants to see what's happening for herself and she wants to lend her support, executive order or not."
We can only wonder whether Melania will be wearing her "I really don't care, do u?" jacket again on this trip.