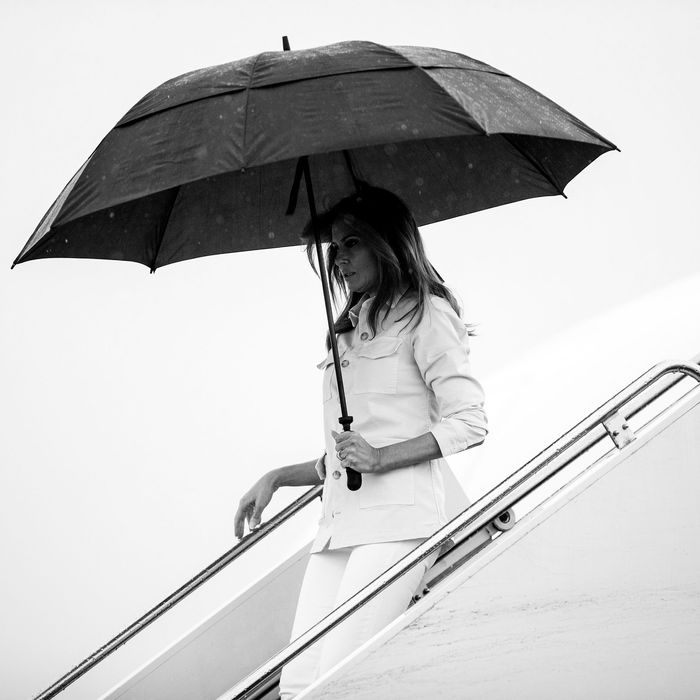 Melania Trump.
Photo: Andrew Harnik/AP/REX/Shutterstock
A day after her husband signed an executive order ending his administration's disastrous family-separation policy, First Lady Melania Trump made a surprise visit to a detention center in McAllen, Texas, where 55 children are being held. Of those, six were torn from their families at the U.S.–Mexico border as a result of Trump's short-lived "zero tolerance" immigration policy, and the rest arrived in the country unaccompanied, a senior administration official says.
According to a statement from her office, the First Lady is in Texas to "take part in briefings and tours," and her goals are to "thank law enforcement and social services providers for their hard work, lend support and hear more on how the administration can build upon the already existing efforts to reunite children with their families."
In a meeting with the staff of the Upbring New Hope Children's Center, Melania thanked them for their "heroic work," as well as the "kindness" they are giving the children "in these difficult times."
She went on to ask staff how often children are allowed to speak with their families on the phone (twice a week, for ten minutes) and what their "physical and mental state" is when they arrive.
"Usually when they get here they're very distraught," said the facility's clinician.
Melania also toured children's rooms, noting how "tidy" they are.
The First Lady reportedly announced her plan to visit one of the detention facilities less than 48 hours earlier, CNN reports. Per her spokesperson Stephanie Grisham, Melania walked into the president's office and said, "I'm headed down to Texas," and "he was supportive."
During his cabinet meeting on Thursday afternoon, the president told reporters, "My wife, our First Lady, is down now at the border because it really bothered her to be looking at this and seeing it, as it bothered me, as it bothered everybody at this table."
He added, "We are all bothered by it. But we need two to tango," in an apparent reference to his incorrect and enduring claim that Democrats are somehow responsible for a policy his administration single-handedly implemented and then rescinded.
Although President Trump ended the family-separation policy on Wednesday, there is currently no plan in place for how to reunite over 2,300 detained children with their parents.