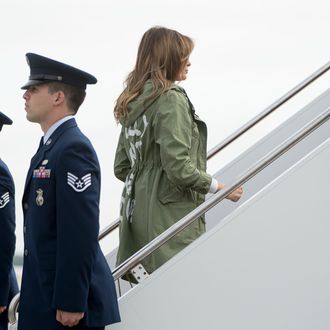 Melania Trump boarding a plane to Texas.
Photo: Andrew Harnik/AP/REX/Shutterstock
This morning, Melania Trump flew down to Texas to visit a detention center in McAllen where 55 migrant children are being held, some of whom had been separated from their families due to her husband's family-separation policy, which he recently reversed. The First Lady opted for a curious sartorial choice for the flight down.
The Daily Mail first pointed out that she was wearing a $39 green cargo jacket from Zara that was painted with the words "I REALLY DON'T CARE, DO U?" CNN reporter Kate Bennett confirmed she was wearing it as well.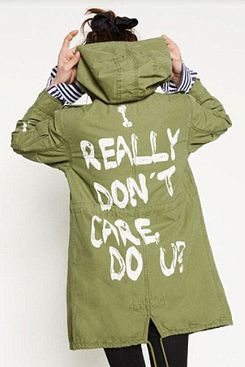 Melania's goals for the day were to "thank law enforcement and social services providers for their hard work, lend support, and hear more on how the administration can build upon the already existing efforts to reunite children with their families," according to a statement from her office. She reportedly ended the visit by telling the children, "Good luck."
"It's a jacket. There was no hidden message," her spokesperson, Stephanie Grisham, told the Cut in an email when asked for comment. "After today's important visit to Texas, I hope the media isn't going to choose to focus on her wardrobe."
A few hours later, following widespread uproar over her outerwear choice, Melania landed at Andrews Air Force Base, Maryland, wearing the jacket. "It is 81 degrees at Andrews Air Force Base," tweeted a reporter from CBS who was present as she arrived. "Her comms director was right — this is definitely not intended to be a hidden message."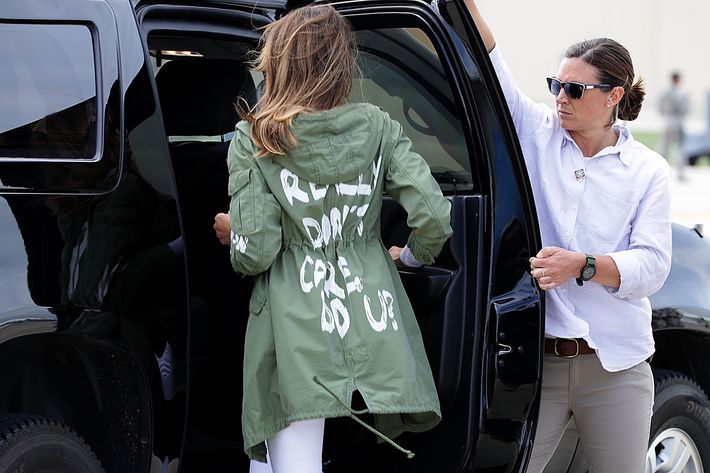 This post has been updated with new information.