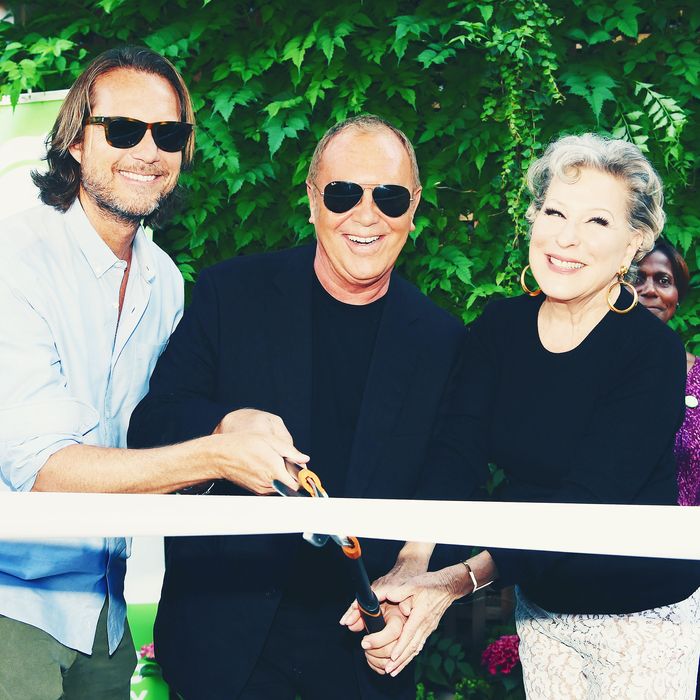 Lance LePere, Michael Kors, and Bette Midler.
Photo: Dimitrios Kambouris/Courtesy of Michael Kors
It was hard to hear Bette Midler singing as the JMZ train thundered past the Essex Street Community Garden in Brooklyn on Thursday afternoon. But the show must go on.
Midler had a job to do. She was there to help her longtime friend Michael Kors and his husband, Lance LePere, cut the ribbon for the newly restored green space, which they helped bring to life in partnership with the New York Restoration Project (NYRP). To celebrate, Kors hosted a block party on the summer solstice with live music, food trucks, and face paint.
"New York is our home and an unending source of inspiration for our work," said Kors in a statement. "We're honored to be able to help Bette and her colleagues at NYRP. Their work helps improve the lives of everyone in New York City by bringing a little nature to the urban environment and creating safe, healthy spaces where local communities can connect."
"In the end, Michael and Lance wanted this garden to have something for everyone in the community and that's really important because without the community, no space can thrive," said Midler. "This garden has something for everyone. It has places to relax, a place to meet, a place to have fun: weddings, birthday parties, memorials, concerts, movies, whatever you can think of."