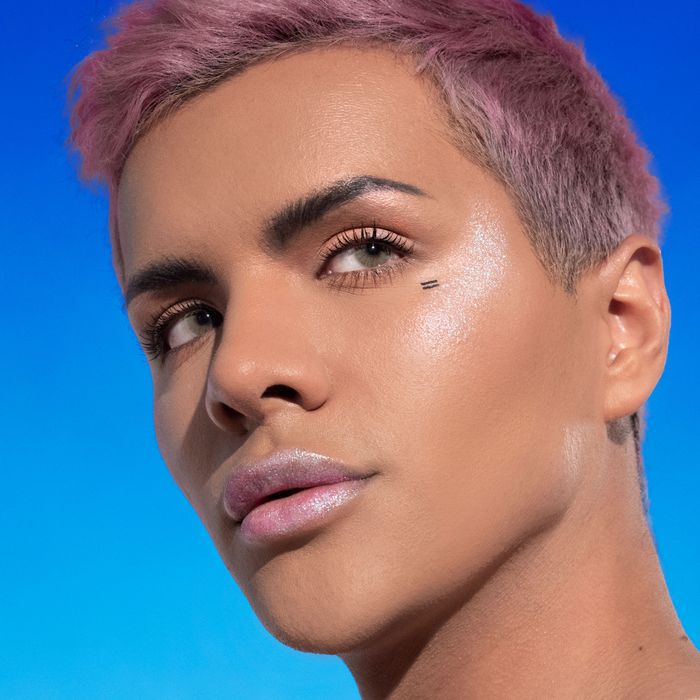 Pride Month is all about celebrating the LGBTQ community and honoring the 1969 Stonewall riots, which sparked the beginning of the modern gay rights movement. To celebrate Pride this year, Milk Makeup teamed up with the Lesbian, Gay, Bisexual, and Transgender Community Center (The Center) in the West Village for three glittery products that will benefit the organization.
As part of Milk's "Glitter =" campaign, they're promoting their highlighting Glitter Stick in Techno, an iridescent white cream that glides on for an otherworldly violet glow. They're also launching a limited-edition Pride Pack, which includes two new products: the silvery Glitter Lip Gloss in Techno and the black Equality Stamp Tattoo, a small marker pen which you can use to "stamp" the equal sign symbol on your face — or anywhere, really.
Milk founder Georgie Greville said they chose to focus on glittery products because "we are all unique specks of glitter that make up an ever-vibrant spectrum of individuality. Within that vast spectrum of differences, it's so important to recognize that equality is for everyone."
Milk also released a short video featuring members of The Center and will share personal essays and photos on Milk's Vibes website.
The Glitter Stick and Pride Pack are available now at Sephora. Fifty percent of the proceeds from the month of June will go to The Center to help empower the LGBTQ community and provide a safe space that celebrates equality, diversity, and inclusivity.
If you buy something through our links, New York may earn an affiliate commission.