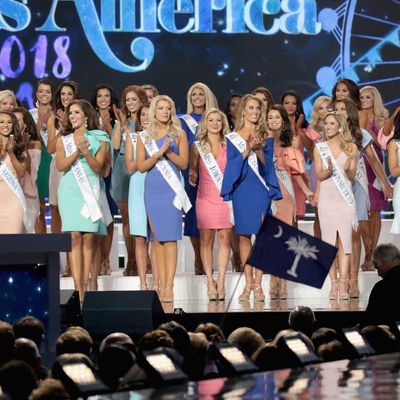 Photo: Donald Kravitz/Getty Images for Dick Clark Prod
On Tuesday morning, Gretchen Carlson, chair of the board for the Miss America Organization, announced that the competition will be doing away with its famed swimsuit portion. Carlson, who is herself a former Miss America, appeared on Good Morning America to announce the decision, which is a part of an effort to modernize Miss America in a post #MeToo milieu.
"We've heard from a lot of young women who say, 'We'd love to be a part of your program but we don't want to be out there in high heels and a swimsuit,' so guess what," Carlson said. "You don't have to do that anymore." Carlson also said the 97-year-old competition, which was initially feted as a "Bather's Review," will scrap the evening gown portion of event; contestants will now be encouraged to wear clothing that makes them feel confident in place of formal eveningwear.
Carlson, a former Fox News anchor, has been a vocal supporter of the #MeToo movement. In 2016, she settled a lawsuit with former Fox News CEO Roger Ailes, who eventually resigned from his position amidst numerous accusations of sexual misconduct.
In December 2017, the Miss America Pageant came under scrutiny after emails between the organization's former CEO Sam Haskell and several executives became public, which contained lewd, sexist comments pertaining to Miss America competitors. The emails reportedly show Haskell calling Miss America 2013 Mallory Hagan "trashy" and "huge" after she had gained weight; he also implied she had slept around.
Shortly afterward, Haskell resigned. With Carlson as board chair, and a number of women executives at the helm, the organization is being steered in a new direction.
Hagan, who appeared on GMA as well, said she's hopeful about the future of the organization. "This is an opportunity to see how women can come together, support each other, take over the things that they want to see happen, and move forward," she said.
May the best woman win.