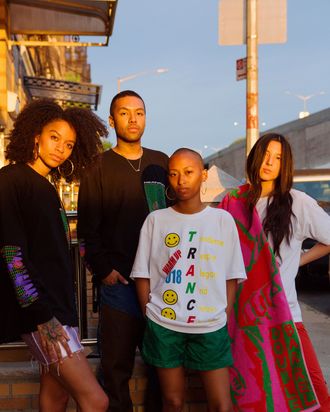 Photo: Photo by Mary Kang.
"Hearing new songs feels great, and so does wearing a dependable T-shirt. Why would we not offer both?" says MoMA PS1 Warm Up curator Naomi Zeichner.
We couldn't agree more. And much to our delight, MoMA PS1 has created a capsule collection of custom merch for its summer Warm Up music series, which kicks off June 30. The collection features three items: a colorful beach towel designed by upstart Los Angeles label Come Tees, a short-sleeve T-shirt designed by visual artist Andrew Kuo, and a long-sleeve T-shirt designed by art director and designer Hassan Rahim. Each was produced by EVERYBODY.WORLD, and made in the United States.
"Warm Up starts with ten Saturdays of innovative music, but it is also a community of artists who choose to participate and people you meet in the courtyard summer after summer," added Zeichner, who led the creation of the collection, which is a first for MoMA/Warm Up. "We wanted to create products that both reflect the spirit of Warm Up and hold up in their own right as objects for people to hold on to and wear year-round."
Check out all of the creative Warm Up merch, below. You can also purchase it exclusively through the MoMA Design Store.