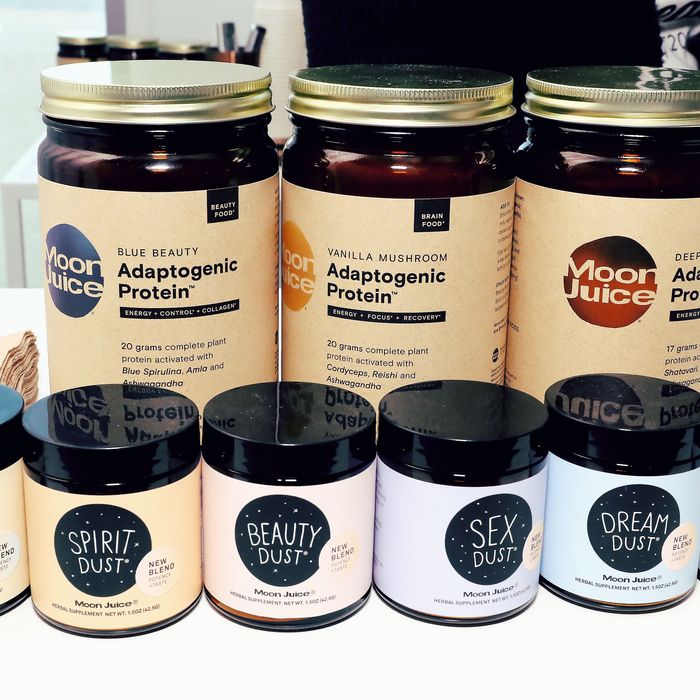 Moon Juice.
Photo: Astrid Stawiarz / Stringer/2018 Getty Images
Moon Juice, the company that sells dusts that promise to improve everything from your willpower to your sex life, is expanding into beauty. The new venture is not to be confused with their Beauty Dust, which is a blend of herbs and pearl that already exists to promote healthier hair and skin. The L.A.-based company run by crystal owner Amanda Chantal Bacon is releasing three products at Sephora on June 19.
The new line, Beauty Shroom, includes a Plumping Jelly Serum for $58, a powder Vegan Collagen Protection for $58, and the Exfoliating Acid Potion for $39. Bacon said she was inspired to start the line after her most effective skin-care product (Biologique Recherche P50) did not live up to her clean ingredient standards. But that doesn't mean her collection is all coconut oil and fairy dust (well, a little bit of dust).
She told WWD, "If you asked me [when we started formulating] what I thought the skin-care products would be, it would have been really hippie-dippie oils that came from a farm, but in reality what has happened here, these are pretty hard-hitting clean clinicals. We're not shying away from science, but we're keeping everything safe."
Goop lovers all over the world, mark your calendars.