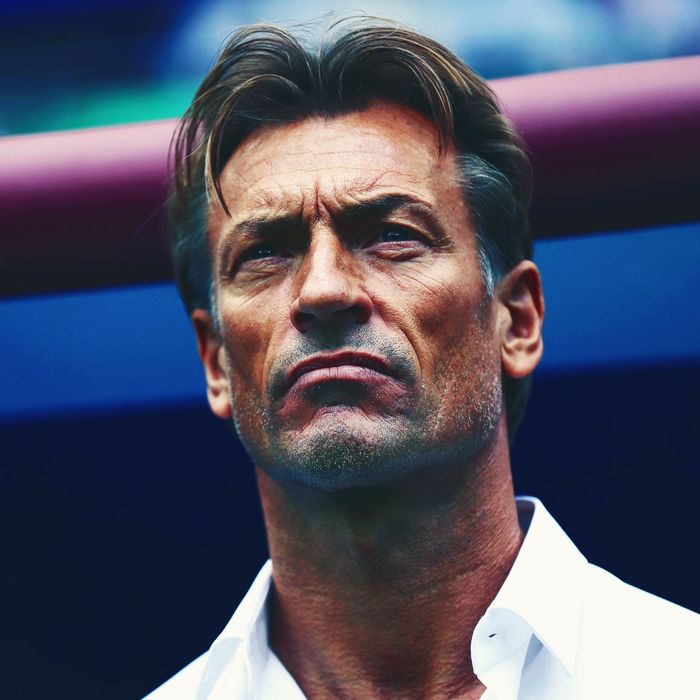 Hervé Renard.
Photo: Dean Mouhtaropoulos/Getty Images
First of all, if you're my dad — a person who both watches every World Cup game and clicks on all of my articles — please stop reading this post right now. Thank you.
Everyone else, hello. The World Cup, as you may know, is perhaps the horniest sporting event we have. There's the copious touching, the summer weather, the overly dramatic reactions to minor injuries (very sexy), the pent-up sexual tension waiting to be unleashed every four years. Usually, people turn their affection to the players themselves — and, believe me, that's still happening. But there's also a newfound horniness for one coach, and one coach in particular: Hervé Renard of Morocco.
This is the first World Cup for Renard, a 49-year-old Frenchman and former soccer player who's been coaching for the last couple of decades. Morocco lost their first game — against Iran — last Friday, and then were defeated by Portugal today. However, this unfortunate record has not diminished Renard's standing in the hearts and loins of the people.
Here, let us bear witness to their lust.
Sounds like everyone here needs to cool off with some orange slices at halftime.