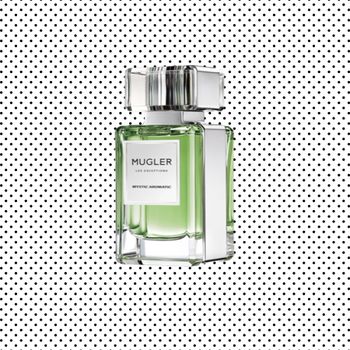 Thyme, basil, and sage aren't just ingredients in a nice, simple pasta sauce — they're also the ingredients in Mugler's latest addition to its Les Exceptions fragrance collection. Lately, it seems like people want to smell like earthy flavors (cilantro perfume, anyone?) and the Mystic Aromatic scent shows exactly why.
The new Mystic Aromatic scent was inspired by the south of France and the medieval monks who lived there. In the Middle Ages, monks would add thyme, basil, and sage to their flower beds to awaken their senses. In French, the plants are called jardin des simples, otherwise known as a medicinal garden. When creating the fragrance, the brand wanted to highlight the contrast of a calm, peaceful garden and the energizing plants within. The fragrance also has notes of calming Peru balsam, which is a sweet resin that the brand says adds depth to the otherwise fresh and herbaceous ingredients. It's a little bit monastic, wanderlust-inspired, and romantic all at once.
Free of light, feminine florals and heavy masculine ouds, Mystic Aromatic aims for the middle ground and is decidedly unisex. The new fragrance is available now from Mugler, and like the rest of the collection, comes in an Art Deco–style etched glass bottle. It can be refilled for as long as smelling like a garden in the south of France sounds good.
If you buy something through our links, New York may earn an affiliate commission.