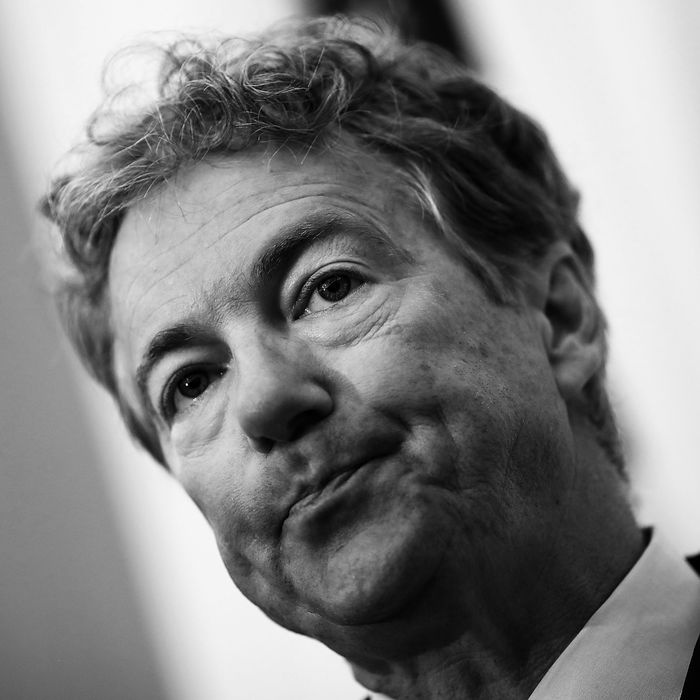 Rand Paul.
Photo: Win McNamee/Getty Images
Last fall, Rand Paul — famed libertarian and the Senate's resident turtleneck enthusiast — was attacked by his neighbor Rene Boucher, and suffered multiple broken ribs in the process. It was later revealed that Boucher hadn't acted out of any sort of political motivation but because of a long-simmering feud between the two middle-aged men over yard work.
Since then, new details have emerged that shed light on exactly how petty of a fight it was.
In a court filing by Boucher's attorney, he describes what his client claims led him to attack his neighbor of 17 years. Specifically, it involves Paul repeatedly stacking branches and other debris on his lawn in a manner that was "unsightly" to Boucher, who could see it from his patio. Per the Bowling Green Daily News:
The brush pile was reconstructed on Oct. 13 or 14, and Boucher had the debris removed a few days later, only for a new pile to be made in the same spot on Oct. 20 or 21.
It continued, though. On November 2, Boucher incinerated yet another pile of debris and "a fireball created from the burn caused Boucher to sustain second-degree burns." At this point, with his neighbor nearly consumed by a fireball, does Paul chill with the debris for just one freaking day? No, no he does not.
Here's what the court filing says happened on November 3, prompting the attack:
"During this process, Rand Paul stepped away from his lawnmower, gathered several branches from an adjacent pile of trash and placed them in the exact location where the last pile had been burned just one day prior."
Boucher's attorney is currently seeking probation instead of prison time for his client, presumably using the "his neighbor was a massive pain in the ass" defense.